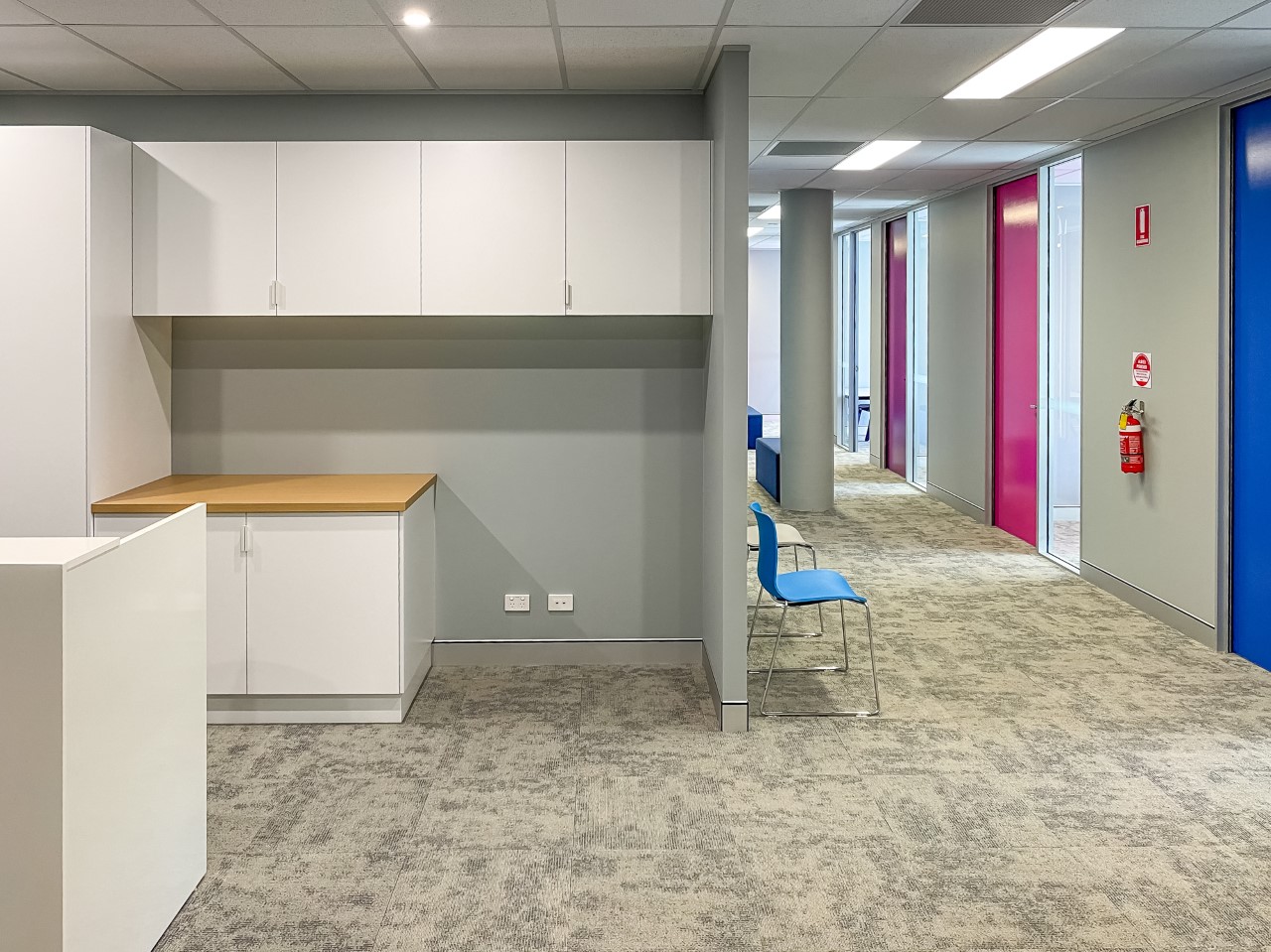 RAW Commercial Projects was engaged by Early Start Australia (ESA) to complete several fitouts for facilities across Southeast Queensland. ESA is a national organisation with multiple health centres, committed to delivering evidence based early intervention and therapy services for children, young adults, and their families.
To date, RAW has designed and constructed three new facilities in the districts of Buderim, Strathpine, and Springfield, with more planned soon.
For each project, our Interior Designers and Construction team worked closely with ESA to realise their vision to create quality fitouts to enable their staff to provide health services for patients within budgets and timeframes.
DESIGN BRIEF
ESA has strict brand guidelines to be incorporated into the design of all their national health centres.
In designing each of the fitouts, our Interior Designer Alex Machado was mindful of ensuring the brand guidelines were met, using specific brand colours.
Other considerations involved meeting acoustic and privacy requirements. The reception and waiting areas needed to accommodate groups of families visiting the centre at one time. Meetings and consultation rooms were to be designed to deliver differing health services by multiple health practitioners.
The design and layout incorporated strict social distancing requirements, especially in the waiting areas to allow for several groups of families to visit the centre together.
Where possible, serviceable materials were to be repurposed or used to reduce costs and waste. New furniture and other products were required to be durable and sturdy to resist damage.
DELIVERY OUTCOMES
The fitout for each facility was well managed by our Construction professionals and Project Managers. Our inhouse team coordinated and supervised all trades and product installation to guarantee quality craftmanship and compliance. We also monitored scheduling of work and costs to ensure these were in keeping with the agreed timeframes and budgets.
Demolition was carried out with care to enable flooring and other materials to be re-used, or repurposed, delivering substantial savings for ESA and benefits for the environment.
Incorporating brand colours of grey, pink, blue and purple. were key to the design for each of the health facilities. The colours were applied to walls, and therapy room doors, adding a splash of colour to brighten the health centres.
The use of operable walls provided several benefits including multiple purpose therapy rooms, privacy, and noise reduction. Other methods to minimise the transfer of noise involved adding extra insulation in the walls and seals on the consultation room doors.
Although each ESA facility varied slightly in design and size, our processes were consistent throughout to deliver the same level of quality and outstanding results.
Each fitout involved the design and construction of the following:
New infrastructure services where required such as air conditioning, plumbing, and electrical

Partitioning, framing, and painting of walls

New reception and waiting areas

Installation of operable walls

Flooring, and joinery where required

Staff Kitchenette, where required
Many thanks to ESA for entrusting us to bring their vision to life and provide a fantastic space to help children and the community. A special shout to our Project Managers Chris Crombie, and Site Manager Dayne Heap along with our whole team of Designers, Construction professionals and suppliers for their incredible efforts.
TIMEFRAME
Between 5 and 6 weeks for each project