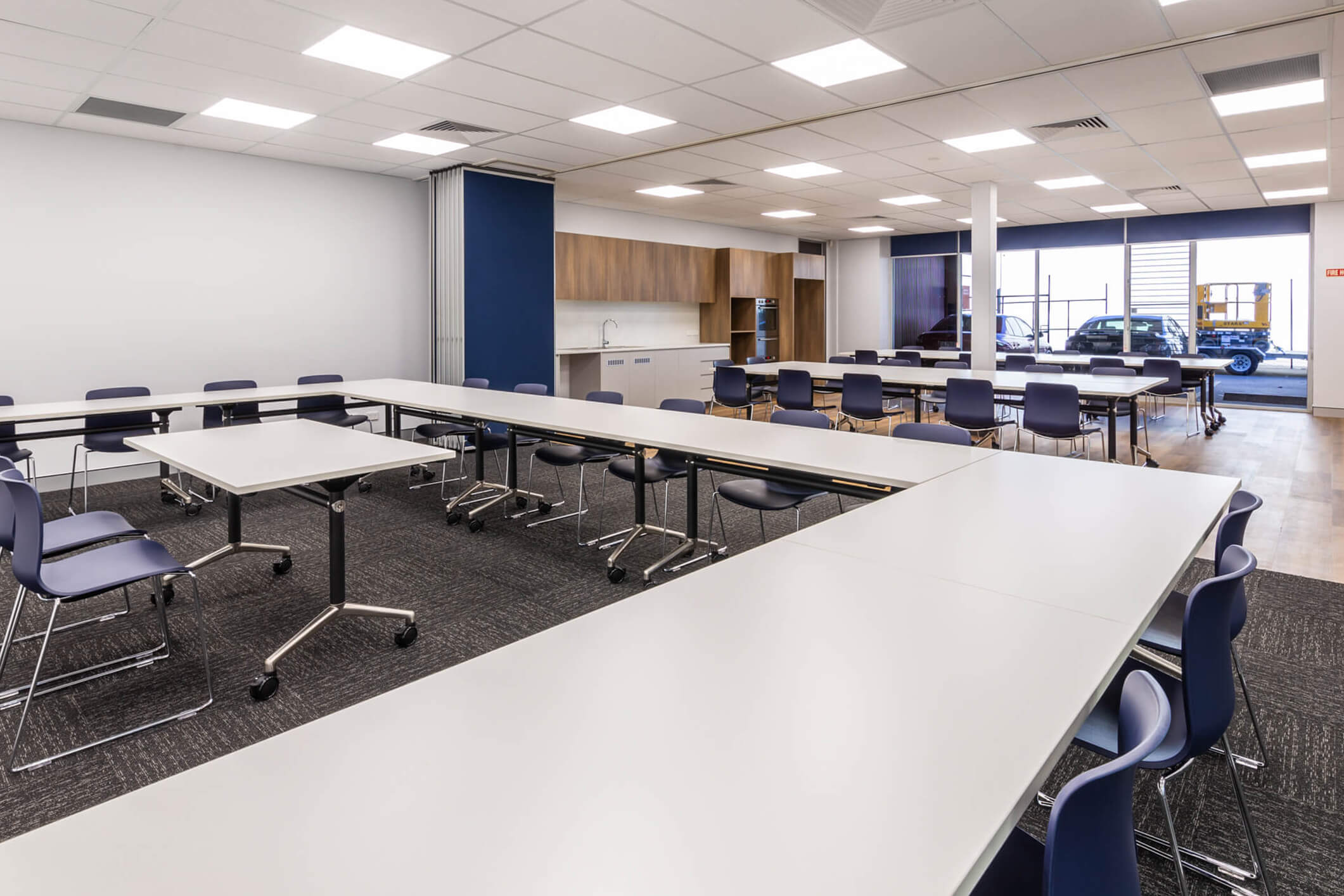 RAW Commercial Projects was engaged to design and construct office space and amenities for Emerson Automatic Solutions at 1189 Kingsford Smith Dr, Eagle Farm. Brisbane QLD.
This was an extremely exciting project for our team, as we worked to transform the antiquated offices into modern practical working environments.
The project involved design and construction of 1000m2 commercial fitout with training rooms, amenities upgrades, new PWD facilities, furniture and kitchen facilities for staff.
DESIGN BRIEF

Our Managing Director, Richard Wiseman worked with our Interior Designers and Construction team to create a functional and practical design that aligned with Emerson's branding guidelines and achieved their company's vision. In line with their brief, the RAW Team created a set of approved and compliant plans, with a comprehensive fixed price proposal to deliver their needs within a specified budget.
The project involved construction of new ceilings, upgrading internal staircases, and division of space to house large training areas. To maximise these areas, we installed design features such as Operable Walls that could be opened onto large kitchen facilities to connect people and activities.
Installation of air conditioning and energy efficient lighting helped to distribute airflow and lighting for the comfort of staff. DDA compliant bathrooms were built and the existing bathrooms were transformed. The final fitout involved a large amount of modern furniture to complete the transformation.
DELIVERY

This innovative commercial fitout was delivered using our "one stop solution" approach, providing a comprehensive and compliant methodology to implement the final design and construction phase of the project.
The office fitout was managed by our experienced Project Manager, Jason Krisanski. His role was to ensure all aspects of the construction met our stringent quality controls and safety standards. Jason was responsible for co-ordinating the numerous specialist trades and overseeing the delivering of these services. The project was implemented in multiple stages to allow Emerson's staff to continue to work throughout the transformation of the premises.
We're delighted with the end results, and especially the performance of our team in delivering this project within budget and timeframes. Two-way communication with Emerson and our Project Team was key to our success. The project was seamlessly delivered with minimal disruption to day-to-day activities for Emerson staff.
FEATURES
Training Rooms with Operable walls
Large staff communal areas
Modern office layout and furniture to compliment
Compliant amenities
Energy efficient lighting and air conditioning
TIMELINE
Six months from start to completion due to the various stages of execution for the project.