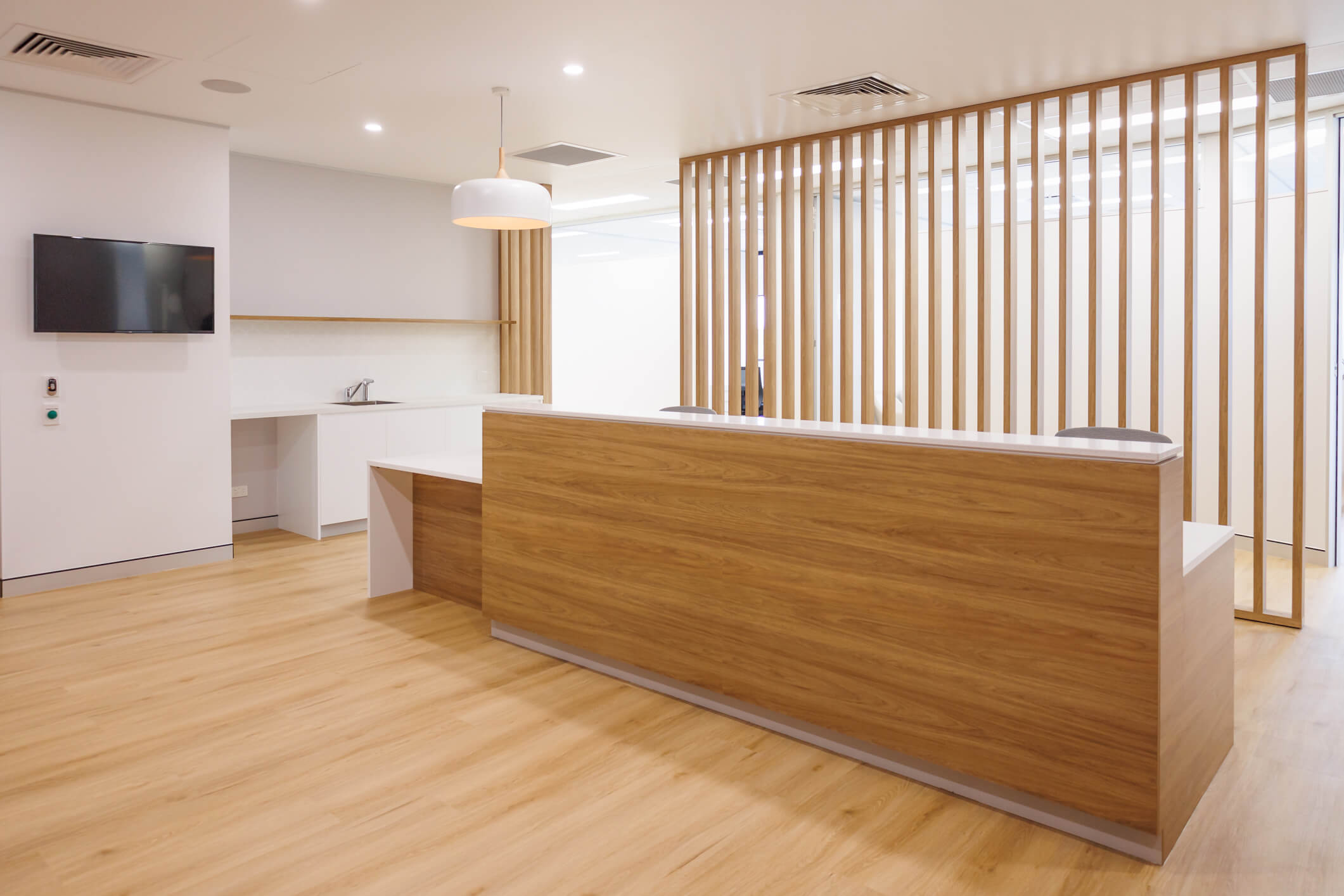 RAW Commercial Projects was engaged to create a stylish and functional new medical centre for Health HQ, in the prestigious Queen Street Village at Southport.
Formerly the site of the Gold Coast hospital, Queens Street Village is set to revitalise the district.  Health HQ wants to provide a valuable all-round health service including general practice, travel medicine, and skincare for families and the community.
The fitout for Health HQ is a significant project involving fitting out a 525m2 space with a medical surgery, and consultation rooms, plus a skin treatment centre, spanning two levels.
Like most of our major projects, Health HQ involved the whole RAW team to ensure the project not only meets our client's goals, but exceeds their expectations across all areas including design, construction, and service delivery.
Our proposal involved developing concepts plans, in line with compliance requirements, plus detailed costings, and construction schedules to enable Health HQ to make informed decisions. Once accepted, the RAW team began applying our meticulous process to begin the construction and installation of the medical fitout. Over several months, our inhouse team of dedicated Construction Professionals, Tradespeople, and Suppliers worked tirelessly to achieve outstanding results.
Project Manager Jason Krisanski was instrumental in managing the many challenges facing this project. The greatest hurdle was working within the Queen Street Village complex which was undergoing major construction works. Our team co-ordinated the installation of works while navigating around limited access to the site. COVID restrictions and the impact of the virus on staffing levels also caused some delays in scheduling works and performing tasks, together with the delivery of products.
Catering for all the medical specific equipment was also challenging. Noggings were installed in set locations to support procedure lights mounted on the walls and ceilings. Plumbing was needed in most rooms within the facility to service hand basins in consultation rooms, sinks in treatment areas and to provide refreshments for clients in the waiting areas.
Specific electric wiring was installed for medical supply fridges, sterilisation machines, X-ray viewing panels, sensor taps, procedure, and feature lighting.
Despite the challenges, RAW achieved a stunning, stylish fitout for Health HQ that epitomises the brand values of good health, cleanliness, comfort, and success.
DESIGN BRIEF
Our Interior Designer Linda Swanepoel was given the task to create a calming and inviting health centre for patients that also met the medical needs for Health HQ. The space needed to have a logical and easy flow, plus accommodate reception areas, treatment and consult rooms, sterilization rooms with specialist equipment, plus facilities for staff.
The shape of the floor space was challenging, as we had to design equal sized rooms, and draw in natural lighting. The RAW team worked together with Health HQ to develop a solution to address these issues.
CONSTRUCTION
In designing the overall look and feel of the centre, we adopted a neutral colour palette to appeal to most people and families but also to provide a calming environment for those patients seeking treatment for serious diseases.
The installation of highlight glass windows along the top of the corridor walls allowed for natural lighting to flood the hallways. The feature walls and wallpaper and tiles also helped to reflect light and brighten the rooms while adding an extra level of sophistication.
Timber vinyl flooring throughout all common areas was chosen for its durability and to create a warm welcoming feeling. The use of timber slatted wall in the reception/waiting area complemented the timber flooring and helped to define the spaces within the open floor plan.
Medical grade sheet vinyl was used in the rooms to conduct medical procedures and treatment, travel care, plus sterilization of equipment.
Joinery for the kitchen and cabinetry was a large component of the fitout requiring custom building to fit the specific needs and shape of each room.
Lighting was another important consideration for the fitout. LED flat panels were used throughout most rooms to create a bright light without shadows.  Specialised procedure ceiling and wall lights were installed in certain rooms. LED downlights and a feature pendant light were installed in the reception/waiting areas to create a welcoming entry.
Procedure and treatment rooms have multiple operating zones.  To highlight each zone, we introduced recessed LED lighting strips of green and red lights underneath the overhead cupboards to distinguish each zone on the working bench. Specific round handles were installed on the cabinetry for easy safe gripping and cleanliness.
Acoustics were also another major consideration with additional insulation provided to reduce transference of noise and maintain patient confidentiality.
While most of the medical furnishing and equipment was supplied by Health HQ, we chose comfortable and easy to clean chairs for the waiting room to suit most patients.
Congratulations to all involved in this massive fitout for Health HQ.  Special mention to Preconstruction Manager Ryan Bosua, Project Manager Jason Krisanski, and Interior Designer Linda Swanepoel for creating this amazing fitout for Health HQ, delivered within timeframes and budget.
MEDICAL FITOUT DELIVERY TWO LEVELS – TOTAL 525sqm

Reception and waiting area
Consultation rooms for doctors, treatment rooms, travel care room
Sterilisation of equipment room / storage
Coffee station, Staff kitchen and breakout room
Back office, Practice Manager's Office, communications room
Staff bathroom
Reception counter and cabinetry
Workstations, desks, waiting chairs, kitchen tables and chairs, shelving, staff lockers
Feature walls, wallpaper
Vinyl timber flooring, and sheet vinyl flooring
Signage
TIMEFRAME
16 weeks