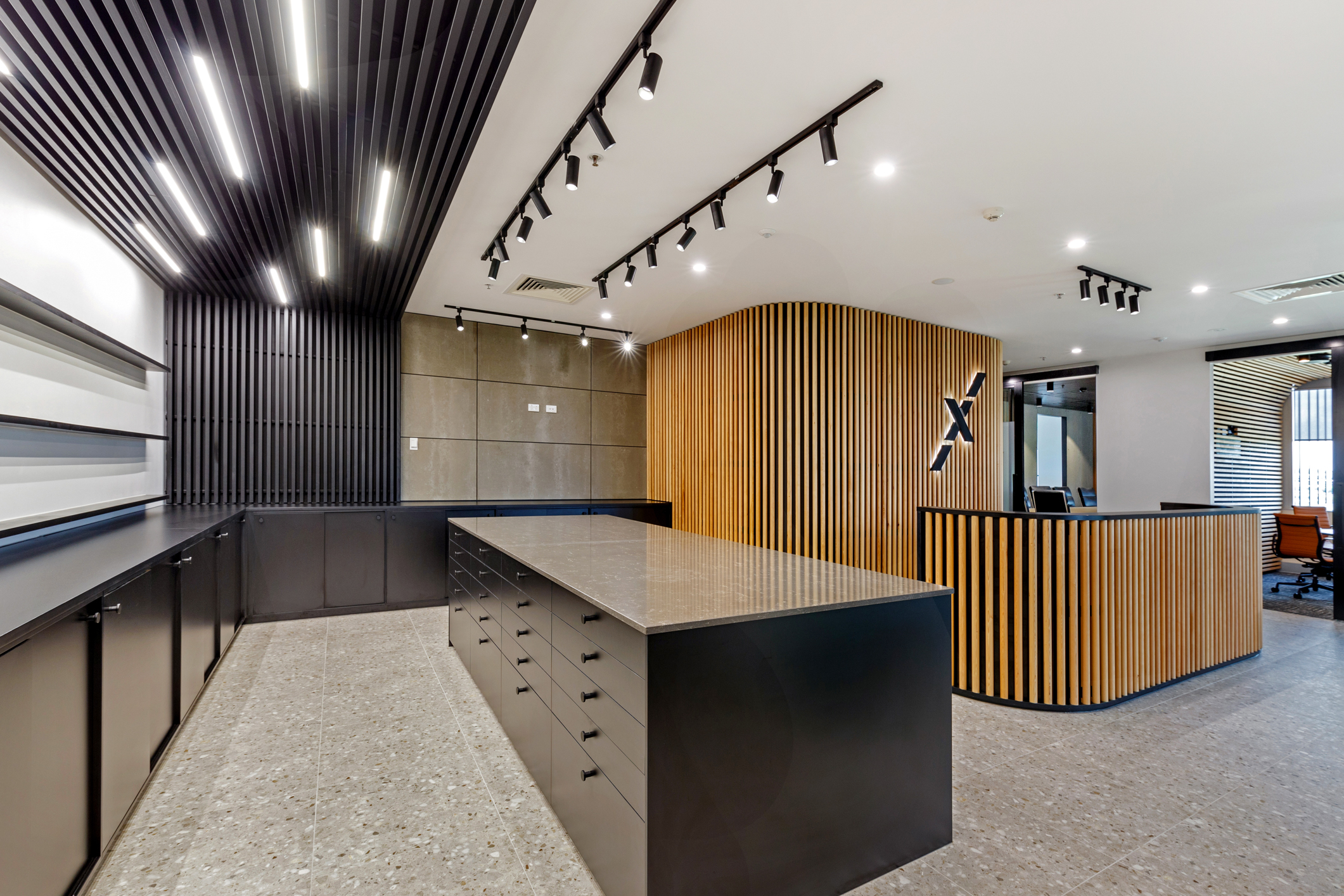 Leading manufacturer and supplier of architectural products, Modinex Group were seeking a creative fitout design to be built for their new office premises at Springfield Tower in Springfield.
RAW Commercial Projects proposed a contemporary sophisticated design incorporating many of Modinex's outstanding building products. The design needed to suit the requirements of several stakeholders including staff and clients such as Building Designers, Architects, Builders and Specialist trades.
Interior Designer Alex Machado prepared design concepts that would impress clients and meet the practical needs of staff members. Once the design was accepted, our team of Project Managers and Specialist Trades worked systematically to manage the project. Together, we implemented the design plans building a spectacular space to showcase products and conduct day-to-day operations for the Modinex Group.
DESIGN BRIEF
One of the design requirements was to include curves to the fitout using products and systems available by Modinex. To achieve this goal, RAW incorporated timber cladding to curved walls and joinery creating a terrific impact on the overall look and feel of the whole space.
The purpose of the design and the fitout was to create a live and functional showroom throughout the floor space and rooms. The area was perfect for exhibiting some of the fantastic systems and products on offer for clients.With an endless selection of products and finishes available, one of the challenges was to explore and narrow the choices to feature the best options to incorporate in the design.
Constant co-ordination from the team and the client was required to find, not only the perfect products for the space, but also to ensure the construction would be seamless and meet the client's expectations.
This superb fitout spans 360m2 and includes:
private lounge, kitchen facilities, and

open plan workstation areas.
RAW incorporated in the build Modinex's quality products such as timber screening, concrete wall linings, and timber wall cladding.
Overall, RAW Commercial Projects delivered an outstanding office space within budget that is both functional and stylish, while meeting all necessary compliance requirements.
The entire RAW team were involved in this project from inception to completion. Everyone had an essential part to play to bring these stylish designs to life. Special thanks to Preconstruction Manager Ryan Bosua and Interior Designer Alex Machado, and our whole support team including Manager Director, Construction Manager, Project Managers, Site Supervisor, Estimation Manager plus specialist trades and suppliers.
TIMEFRAME
9 weeks