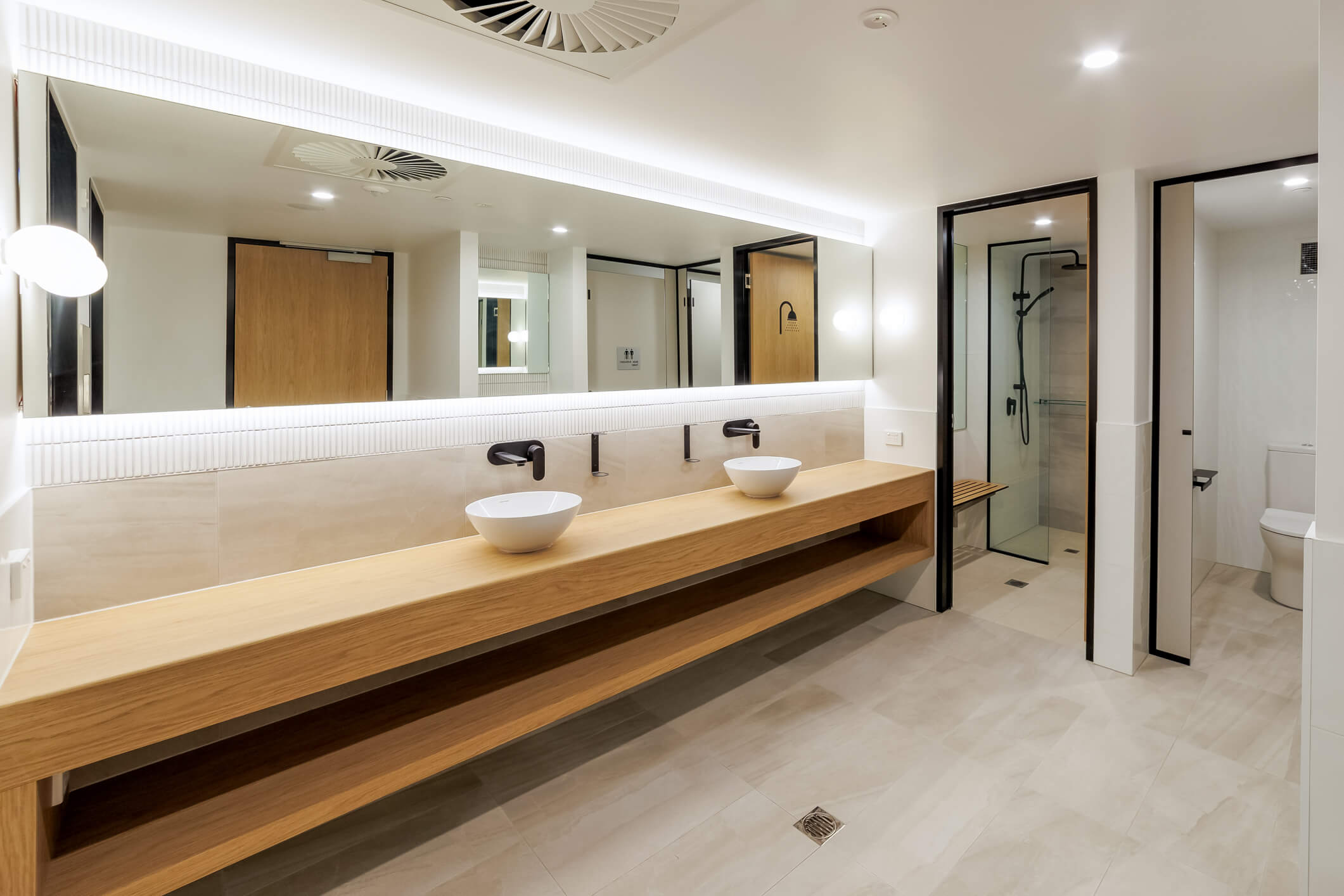 Our clients wanted to provide facilities to encourage tenants to practice healthy living. RAW Commercial Projects was engaged to design and build End of Trip (EOT) facilities to help our clients achieve this goal.
This challenging fitout involved partitioning part of a basement carpark and building a new structure to house EOT facilities. Our Interior Designer Henna Viikari prepared several stunning designs to create an inviting and functional space to enable staff to walk or ride bicycles to work, refresh, and prepare for their day, or evening out after work.
Our Project Management Team consisting of Jason Krisanski and Chris Crombie managed this complex operation while maintaining safety protocols to minimise risk to tenants and visitors.
The final result is a stunning, vibrant space with practical facilities such as bike racks, storage, showers, toilets and much more. In this case, the repurposing of the carpark space has provided another value-add for property owners, seeking to improve the value of their building, and attract commercial tenants. End of Trip facilities will also provide health benefits for tenants and help to reduce vehicle traffic and improve our environment.
DESIGN BRIEF
Working with a blank canvas, our talented and highly skilled Interior Designer Henna Viikari was able to envisage each component of the design to enable maximum use of space. She also ensured the pathways within the facility were easy to navigate, and tenants had sufficient space to manoeuvre, especially during peak use.
Henna has incorporated warmth and luxury into the bathrooms with modern round vanity bowls, black fixtures and fittings, plus stunning timber benchtops and doors. She has created a clean and uncluttered design to reflect a contemporary style, while using dynamic yellow and black signage to guide facility users. We've also included plenty of locker storage as well to enable people to keep their personal belongings.
One of the main design challenges was to transform a sterile concrete basement carpark and entry way into a welcoming End of Trip facility. It was important that users feel drawn to the space, and the facility was inviting and clearly signed. We also used lighting to draw the eye away from the exposed services in the ceiling and towards the EOT space. Bright yellow paint highlighted the entry way to the facility.
Lighting was a major consideration when designing the new shower and bike storage facility. The aim was to make the space intimate, warm and inviting while keeping it practical and user friendly. We used a row of simple black pendant lights in the bike storage corridor to delineate the walkway and bike path. The main feature of the bathrooms is the LED lighting behind the mirrors. It provides a practical element creating correct lighting level as well as lighting for the vanity space. It also emits a soft, even glow that creates a relaxing vibe where there is no natural light.
The EOT fitout is 113 m2 and includes features such as:
Bike racks to hold approximately 13 bikes
Female shower, change room and toilet facilities including ambulant toilets
Male shower, change room and toilet facilities including ambulant toilets
Unisex disabled toilet and shower facility
Lockers
Bike repair station
We're very proud of this EOT fitout project and congratulate all involved including our specialist Trade providers who assisted us with a host of services including concreting, plumbing, electrical, painting, joinery, and signage.  All members of the RAW team are involved in various aspects of each project from the initial proposal through to the final delivery.
TIMEFRAME
12 weeks