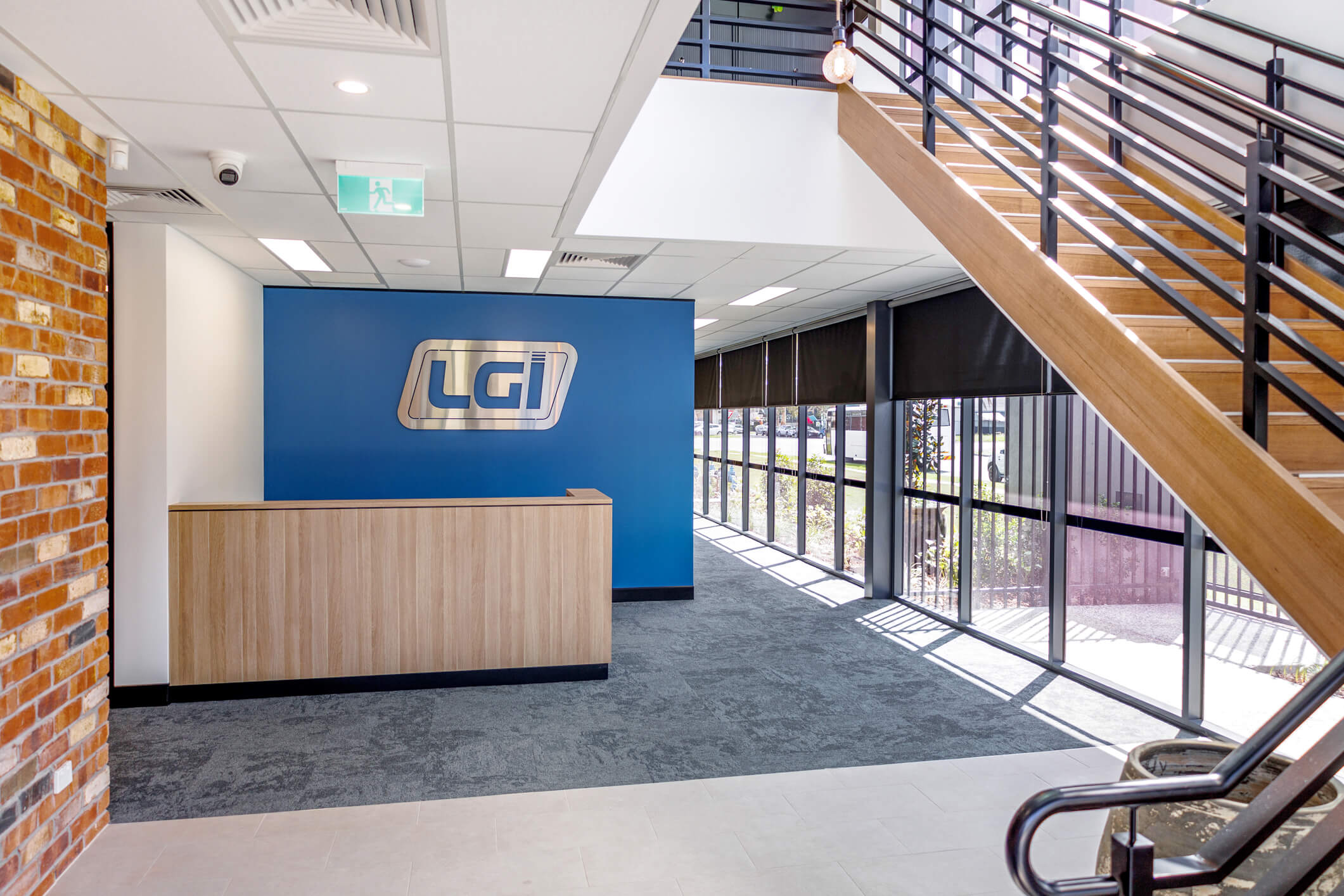 SUBURB/LOCATION:57 Harvey Street North, Eagle Farm
RAW Commercial Projects was engaged to undertake a commercial warehouse fitout for LGI, a leading provider of carbon abatement and renewable energy solutions at Eagle Farm, Brisbane.
The fitout involves design and construction of offices and meeting rooms covering 360m2 across two levels. Our team of Designers and Construction Professionals did an exceptional job of creating a stylish modern workplace for our clients. Our one point of contact approach ensured all information was clearly delivered and understood. Working with tight deadlines, we were able to deliver a quality fitout on time and on budget. The RAW team were mindful to maintain existing components of the fitout in good condition such as floor tiles, staff kitchenette and bathrooms.
DESIGN BRIEF
One of the challenges of the fitout involved creating the design around the existing features within a 360m2 space in a warehouse, located within the industrial precinct at Eagle Farm.
Our talented and highly experienced Interior Designer Alex Machado did an excellent job maximising the space to ensure it flowed harmoniously and met our clients needs.  Alex also incorporated our client's brand guidelines into the design concepts to reflect a clean and professional image in line with their business values.
The design incorporated materials and features to emulate the contemporary industrial surrounding within the warehouse.  Where possible, RAW blended new elements with existing materials to provide a sustainable option.
Specific design elements included:
Reception features corporate colour as per our client's design guidelines
Black accents infused throughout the fitout such as black framed glazing, plus black detailing in the joinery, workstations, and office furniture
Acoustic glass
Existing brick wall and timber look laminate and industrial feature
Existing full height glazing allowing the natural light to flow through the entire space
CONSTRUCTION HIGHLIGHTS

The RAW team worked collectively to design and construct the new office fitout efficiently and cost effectively. Together they developed detailed plans that involved fitting out the tenancy on two levels while maintaining the integrity of the existing structure. As the space was very open, one of the major requirements included sound rating of offices to provide privacy and reduce noise transference.
Project Manager Chris Crombie oversaw all construction elements including demolition works, framing, electrical, ceiling and lighting, air conditioning, flooring, painting, cabinetry and joinery, plus much more.
Our dedicated team of skilled contractors worked tirelessly to deliver a quality fitout for our clients within tight timeframes.
KEY FEATURES:
6x offices
2x meeting rooms
1 x Boardroom
Conference room
24 x Workstations
Reception counter
Furniture
Joinery and Cabinetry
Lighting solution
Signage
PROJECT RESULTS
The RAW team created a clean and elegant working environment to meet the needs of our clients.
Through our streamlined processes we provided design and construction services efficiently that complied with our high standards of excellence and building requirements. Most importantly, we ensured our clients were kept well informed throughout the project, so they were comfortable with the decisions and results.
TIMEFRAME
6 weeks