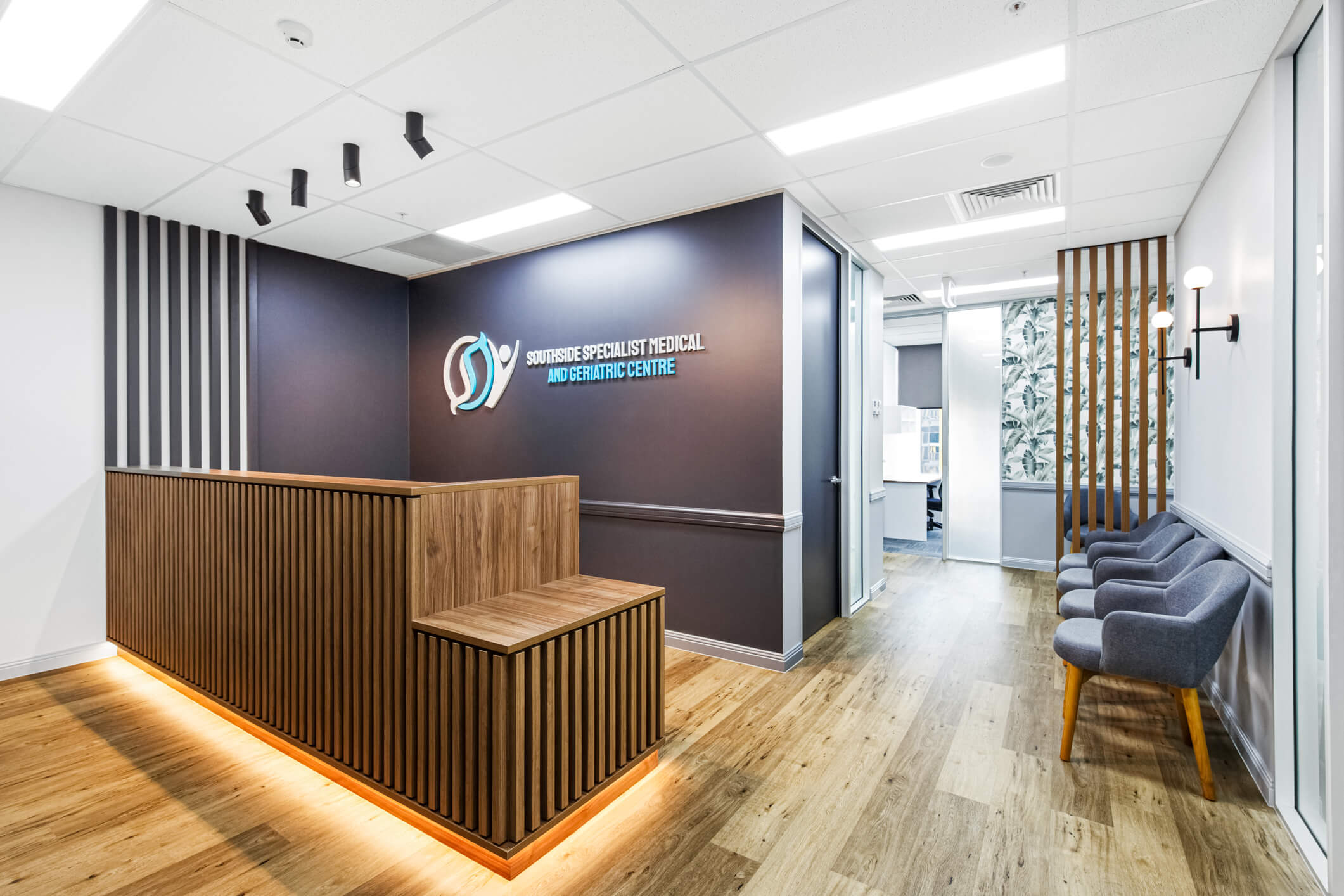 SUBURB/LOCATION:Greater Springfield Specialist Suites, Suite 404 (Level 4/2 Wellness Way, Springfield Central QLD 4300
Transforming a space into an environment that is both functional and inviting is what we do best at RAW Commercial Projects. This case study involved designing and fitting out a new health clinic providing specialist medical services for SEQ residents. The Southside Specialist Medical and Geriatric Centre (SSMGC) offers comprehensive medical care for people with complex health issues including specialist services for disorders occurring in older people. Located in the new Springfield Specialist Suites building, the 110sqm shell has been transformed with a fresh calming fitout designed and built by the RAW team. Our Interior Designer Alex Machado did an excellent job delicately balancing the needs of the medical practice with those of elderly patients while maintaining social distancing requirements with limited space. Our Construction team brought these stylish designs to life with our usual excellence in project management, fine attention to detail, and quality craftsmanship, delivered within time frames and budget. We're thrilled to add SSMGC to our exceptional portfolio of medical fitouts.
DESIGN BRIEF
The scope of the design involved creating a homely vibe for the clinic to enable patients to feel relaxed and comfortable while having their medical conditions treated. Our talented Interior Designer Alex Machado has achieved this effect by including in the design earthy tones of green and brown, plus timber joinery and flooring. Decorative elements such as wallpaper, wall lights, and timber mouldings were used to create a calming sense of home. All soft surface materials have been chosen to add warmth and absorb sound. To comply with COVID requirements we added extra comfortable waiting chairs for both patients and their carers.
Specific design elements included:
Timber joinery: accents of timber have been used in the space to suggest nature and bring a sense of calmness. Timber is known to lower stress and anxiety, offering many health benefits.
Timber mouldings: help to create a sense of intimacy by visually reducing the scale of the walls and rooms.
Green leaf wallpaper: the botanical wallpaper brings colour and natural texture to the space, as well as adding warmth and freshness.
Soft furniture was used throughout to absorb sound and provide comfort for older patients and carers.
Ergonomic office furniture was supplied for the staff's wellbeing and comfort.
Varying tones of warm greys were used on the walls to create an inviting and softer atmosphere. The painted walls also helped to accentuate the botanical wallpaper.
Soft wall lights were installed to provide a relaxed ambience and a cosy feel.
CONSTRUCTION HIGHLIGHTS
The construction of the SSMGC fitout was well managed by our highly experienced team of Project Managers and Construction Professionals. We began with a 'warm' empty shell and built a stylish contemporary medical suite that satisfied the needs of doctors, staff and patients alike.
One of the key challenges in this fitout was designing the space to fit the required consultation rooms and general amenities, while meeting compliance obligations. The team also had to contend with meeting social distancing requirements throughout the construction.
The scope of the fitout included the installation of new mechanical air conditioning units, detailed hydraulic works to provide handwash basins in each room, construction of partitions for reception area, consultation rooms and offices, plus detailed fit for purpose joinery throughout. We also built a unisex staff toilet and staff kitchen facility,
KEY FITOUT FEATURES FOR 110sqm  
Reception and waiting area
Reception counter and cabinetry
Staff kitchen
Staff unisex bathroom
Signage
Installation of medical equipment and storage cabinetry
PROJECT RESULTS
The RAW team created a clean and homely medical suite that is fitting for older patients as well as the wider community serviced by SSMGC. Through innovative and clever design, we transformed a generic commercial space into one that blends modern medicine with comfort and warmth. Now patients, carers, doctors, and health professionals can enjoy this stylish and practical medical facility for many years to come.
Our RAW team is pleased to have provided design and construction services that complied with our superior standards of excellence and building requirements. Through our streamlined processes and highly experienced team of Designers and Construction Professionals, we delivered an excellent medical fitout with minimal disruptions. Throughout the design and building process, we kept our clients well informed, so they were comfortable with the decisions and results.
TIMEFRAME
10 weeks