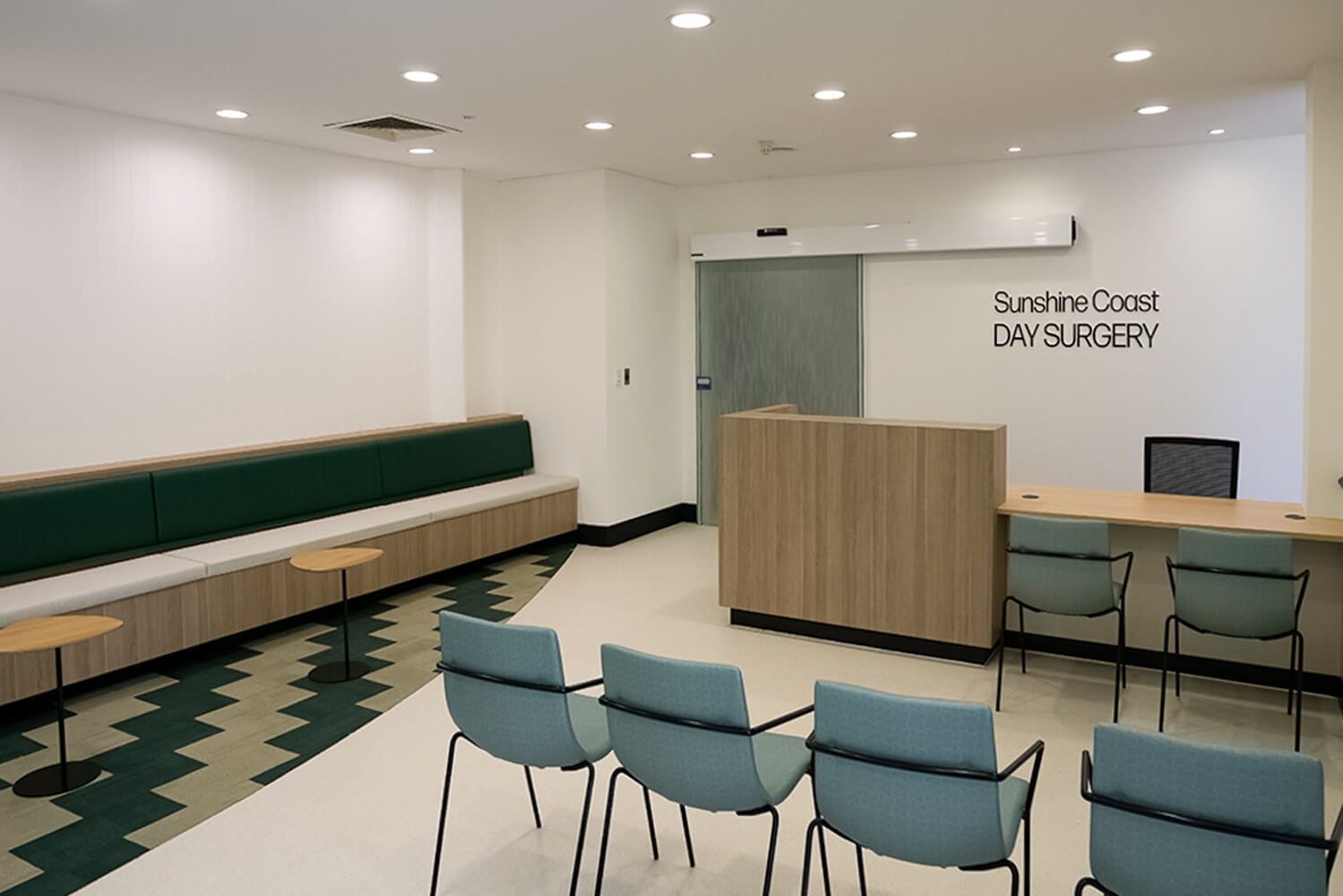 RAW Commercial Projects were appointed to refurbish the reception, administration and waiting area for the Sunshine Coast Day Surgery.
Our Interior Designer put together an amazing conceptual package that our clients were thrilled with! And from this conceptual package we were able to complete this refurbishment in one week (yes you read that correctly!). This tight time-frame was possible because of the flawless scheduling and execution of this project by the RAW team.
The Sunshine Coast Day Surgery is a busy and vital service for the Sunshine Coast and because of this, could not simply shut their doors for an extended period in order to be refurbished, nor could construction take place whilst the surgery was in operation. Our solution to this was to shut down the surgery in the week before Christmas 2018 which traditionally is a quiet period so that the work could be completed in record time.
As you enter the surgery you are welcomed into the waiting and reception areas, all completed using a green hued colour theme. The reception area is easy to access and comfortable seating has been arranged for their clients' convenience.
The Practice Managers office has been expanded and now includes a spacious office area as well as client seating.
Offices have been installed in the back of the surgery for staff's use, as well as new cabinetry and a new data server area.
Works on this project included:
New flooring
Reception counter and new office joinery
A total fitout including furniture supply
Automatic frameless glass sliding doors at the main entry and through to the recovery lounge
Total repaint
New lighting
Installation of a data rack and server area and space for a printer
Refurbishment and expansion of Practice Managers office
Following the successful completion of stage 1 of this project, which was refurbishing the reception, administration and waiting area for the Sunshine Coast Day Surgery, RAW Commercial Projects were appointed for stage 2 which included refurbishing the staff kitchens, the patient kitchens, the amenities and two new office's for the staffs use.
Works on this project included:
The reconfiguration and refurbishment of the staff kitchen area
A refurbishment and upgrade of the patient kitchen area
A fully compliant bathroom, accessible to disabled clients
The refurbishment of the unisex toilets
2 new offices for staff use
Partitioning, skirting and joinery
The cutting of a concrete slab to adjust the layout of the area
Tiling
The supply of kitchen and office furniture
Cabinetry
Pendant lighting