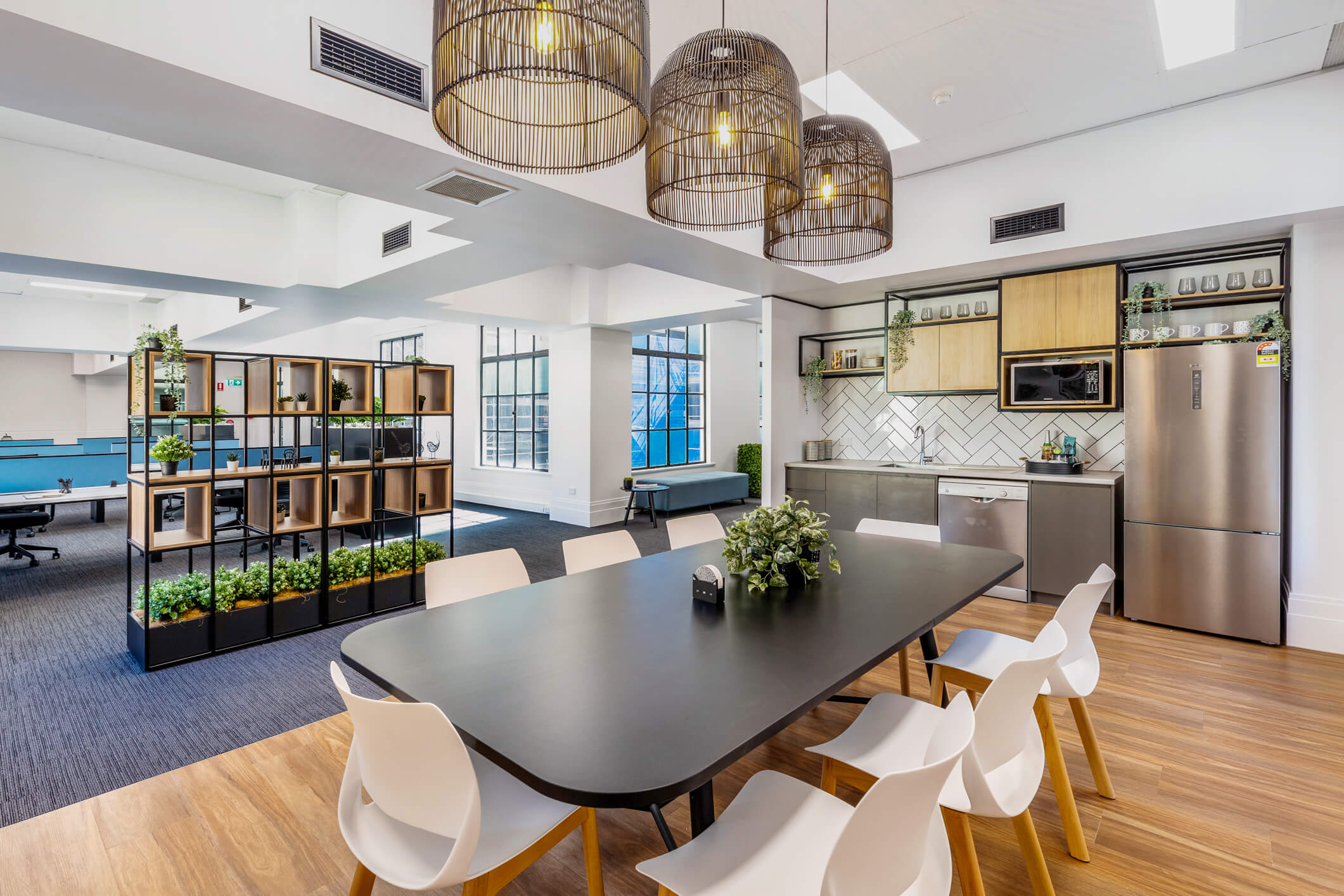 Speculative fitouts provide many benefits for landlords and tenants, looking for move-in ready commercial premises to lease. A professionally design and constructed speculative fitout will save time, and minimise risk for prospective tenants. Landlords investing in a speculative fitout will most likely attract a higher volume of quality tenants as well as reduce vacancy rates.
RAW Commercial Projects was engaged to design and construct the speculative office fitout for level 5 at 232 Adelaide Street, Brisbane. This is a heritage listed building, overlooking ANZAC Square in the heart of Brisbane CBD. The existing space was made up of six offices, boardroom, and two meeting rooms plus entry. The offices and rooms were small, dimly lit, and in need of repair and refurbishment.
Our aim was to transform this space using the natural light from the large historical windows and apply an open plan concept to work areas. This would enable extra workstations, plus a boardroom, kitchen facilities within a breakout room for staff, and an entry foyer with a waiting room for visitors.
The speculative fitout involved the design and construction of 190m2. Our service included;
Preparation of documents, design plans and approvals
Project Management of design and construction
Site preparation and demolition including removal of walls and flooring
Plastering, glazing and doors
Painting walls, doors, and installation of feature kitchen wall artwork
Installation of floor coverings – carpet tiles and timber look vinyl planks
Electrical installation including LED Light upgrades
Management of fire protection services and plumbing
Workstations, loose furniture and appliances
Kitchen joinery and steel framed overhead cupboards
DESIGN BRIEF
Our design brief involved transforming antiquated offices within a heritage listed building to attract a high calibre tenant. Working together, Managing Director Richard Wiseman and Interior Designer Linda Swanepoel created a contemporary speculative fitout that increased the capacity of staff members to work in the space. Overall, our RAW team produced an inviting light filled working area, enriched by the heritage features of the building.
DELIVERY
The speculative fitout project was delivered in a timely manner, and within budget. Our team followed RAW's proven methodology and met our highest standards of compliance in line with Cm3.
Project Manager Jason Krisanski, supervised and managed the project, overseeing specialists trades who met our high quality standards for excellence, in craftsmanship and compliance. All work was completed as per contract specifications, on time, and within budget.
Our RAW Team is delighted with the result of the speculative fitout. We're confident our clients will attract high end tenants who will appreciate the functionality of the design, and the quality of fittings and fixtures. The fitout design and construction has captured the essence of this historical building and tastefully blends heritage and contemporary features.
DESIGN FEATURES
Open plan workspace suitable for 12 people
Formal boardroom
Kitchen and breakout room
Entry and wait room
New LED panelling throughout
Feature pendant light in entry and wait area
New LED downlights in entry and waiting area
Kitchen cabinetry and joinery to feature black powdercoated steel frame with push open cupboard doors and internal adjustable shell with white internal carcase
Feature painted wall, large canvas wall art of Brisbane inner city buildings in 1898
Ceramic tiles, timber look vinyl floors, carpet tiles and polished floor in foyer
Furniture for boardroom, waiting area and staff breakout area
TIMEFRAME
Five  weeks from start to completion.