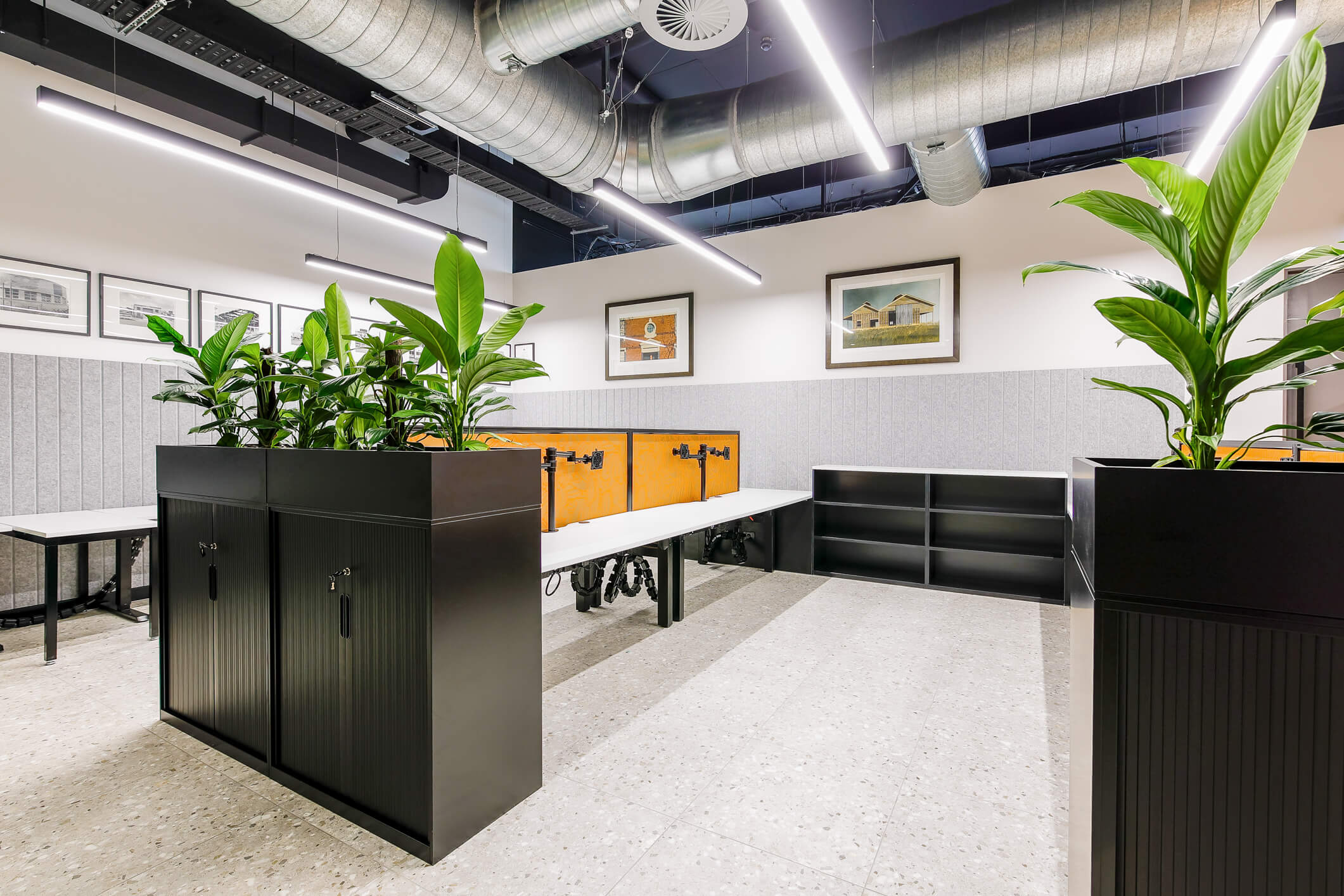 Property Solutions engaged RAW Commercial Projects to construct the office fitout for their new premises in Nundah. Working from an empty shell, the RAW team applied their construction knowledge and skills to bring the Property Solutions' vision to life.
The outstanding results not only accentuated the company's brand but creates a practical working environment, accommodating staff of two businesses working in the same space. Our RAW team worked closely with our clients to build a quality fitout that exceeded their expectations.
The project involved design and construction of 220m2 of commercial fitout including construction of:
Individual offices
Kitchen and staff meeting area
Client meeting rooms
Electric sit to stand workstations throughout
Amenities and PWD facilities
Files and storage cabinets, and
IT network centre.
DESIGN BRIEF
Working with the Property Solutions Team, Managing Director Richard Wiseman, and Interior Designer Linda Swanepoel, adapted an existing concept design to ensure it was compliant and a building approval could be obtained, whilst ensuring the project met budget and timeframes.
The project involved the installation of an exposed blacked out ceiling featuring uncovered spiral ducted air-conditioning throughout the main floor space. This industrial feature met both functionality and design.  Black as a statement colour was further used in the powder coated glazing frames with Tasmanian oak look timber doors for the offices. Orange was another signature colour, representative in the workstation screens. The smart use of alternative floor tiles (instead of polished concrete as first proposed), saved both costs and time. The two tiles cleverly helped to differentiate the company's two distinct services. A 3m long black suspended linear LED lights throughout the main area provided necessary lighting for staff and gave the office a contemporary feel.
DELIVERY
As with all our projects, we applied our "one stop solution" approach. This provided another layer of security for our clients ensuring the project met all compliance requirements and was constructed to the highest standards and within budget.
The office fitout was managed by our Project Manager Chris Crombie who did a superb job keeping control of the budget, construction timeframes, specialist trades and products.
Overall the project ran smoothly with minimal disruption. Client face-to-face meetings, and site inspections gave everyone involved the opportunity to discuss progress and adjust plans or products as required.
Our RAW team is immensely proud of the Property Solutions fitout project. It exemplifies the combination of innovative design and superior construction expertise.  Each feature makes a statement and has a purpose. The ultimate impact is both striking and inviting for staff and visitors.
FEATURES
Polytec "Tasmanian oak" steccawood feature bulkhead over kitchen and feature wall to reception
Smoked mirror splash back above the kitchen
Chunky black powder coated glazing frames with Tasmanian oak look timber doors to offices
Two diverse floor tiles – terrazzo look tile and the other a larger aggregate honed concrete style tile
4m high x 3m wide live vertical green wall with growth lamps and drip irrigation system
Exposed spiral duct Airconditioning throughout the main floor space
3m black linear LED lighting
TIMEFRAME
2 months construction timeframe from start to completion.