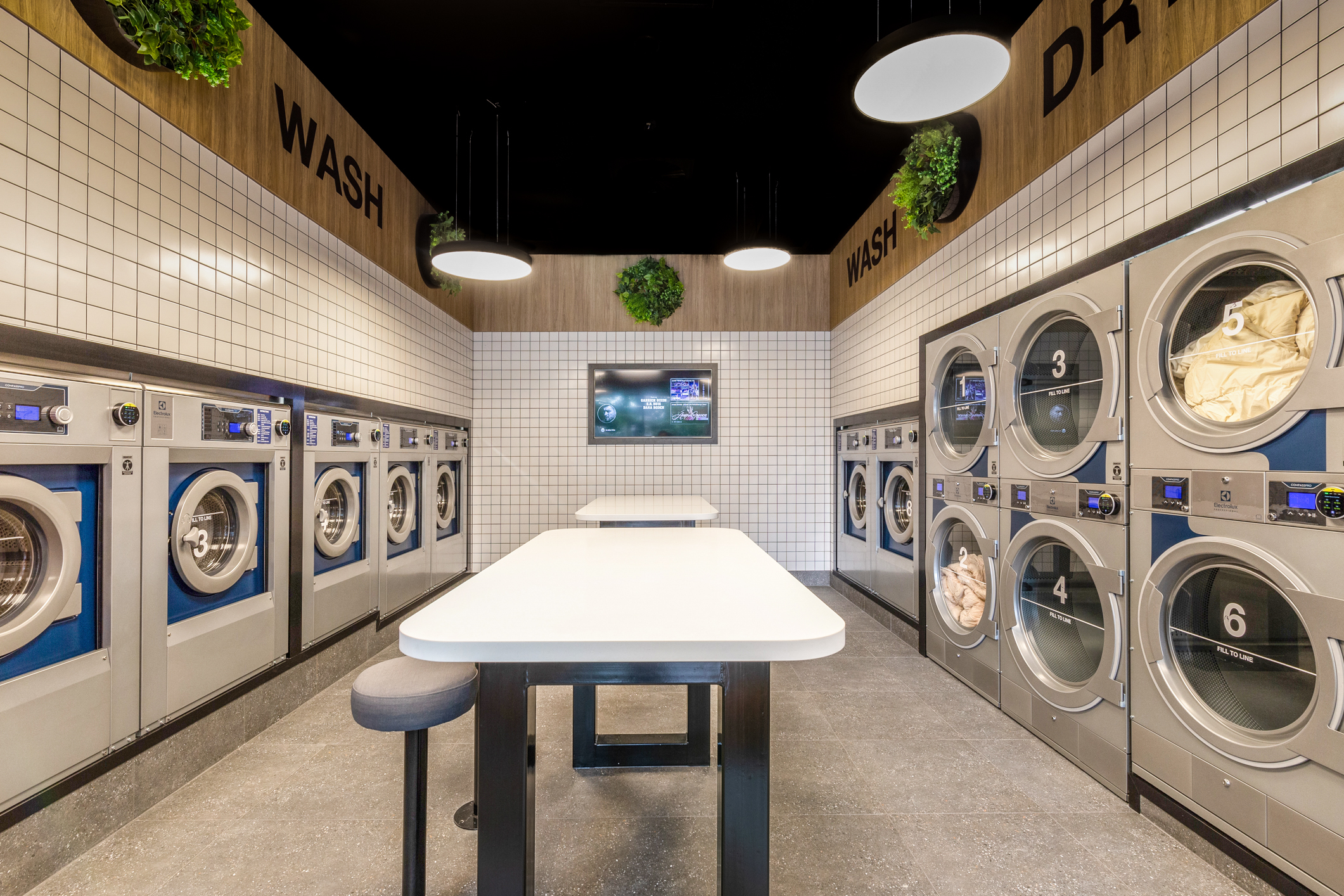 SUBURB/LOCATION:Nundah, Brisbane
RAW Commercial Projects was engaged by our long term clients to design and construct a self-service laundry incorporating high tech machines.  Spin Laundry's goal is to create a unique experience to appeal to time poor millennial professionals. Our Design and Building team were charged with the task of developing an inviting clean space housing the complex workings of the laundry.
DESIGN BRIEF
To design a space reflecting the modern concept of a smart commercial laundry as both a place to wash and dry clothes, and a meeting place for locals to gather and connect. Our clients wanted the materials used in the construction of the space, to maintain the integrity of the concept and minimize the risk of damage to furnishings and fixtures.
DESIGN AND COLOUR
In line with the brief, Interior Designer Linda Swanepoel, produced a fresh bright design to encourage people to "want" to do their laundry and spend time in the space through choice, not just necessity.  She achieved the modern industrial look and feel using an exposed black ceiling, and large black round feature pendant lights installed at different heights.
Timber paneling and large round wall mounted greenery were positioned high up to lengthen and soften the space.  Feature 100x100mm matt white square wall tile was used with anthracite grout to create a modern and clean look.  We opted for a dark grout that will not show dirt so quickly and this also added to the industrial/modern look. Accents of orange was introduced to add a splash of fresh colour and complimented the Spin Laundry branding.
Custom built tables and stools were designed with stone tops and black powder coated legs.  All furnishing and materials needed to be scratch resistance to reduce risk of damage. A concrete floor added to the industrial style and was a practical choice to maintain cleanliness.  Signage was created in line with branding guidelines, and to provide clear instructions for laundry users.
CONSTRUCTION
The construction and fitout of Spin Laundry was an extremely complex process requiring specialist trades.
Project Manager Chris Crombie did an excellent job overseeing the challenging installation of 140m gas pipe to connect to the mains, plus ensuring all other services were completed to our high standards and met compliance.
Features and works include:
Installation of services, plumbing, air conditioning, and lighting
Installation of high-tech washing machines
Tiling and grouting for walls
Laying concrete flooring
Painting of walls and exposed ceiling
Custom built furniture
Signage
Overall, our RAW team tackled this commercial fitout with gusto managing the intricate installation of machinery and services.
Project completed on time and on budget.
TIMEFRAME
11 weeks from start to completion.