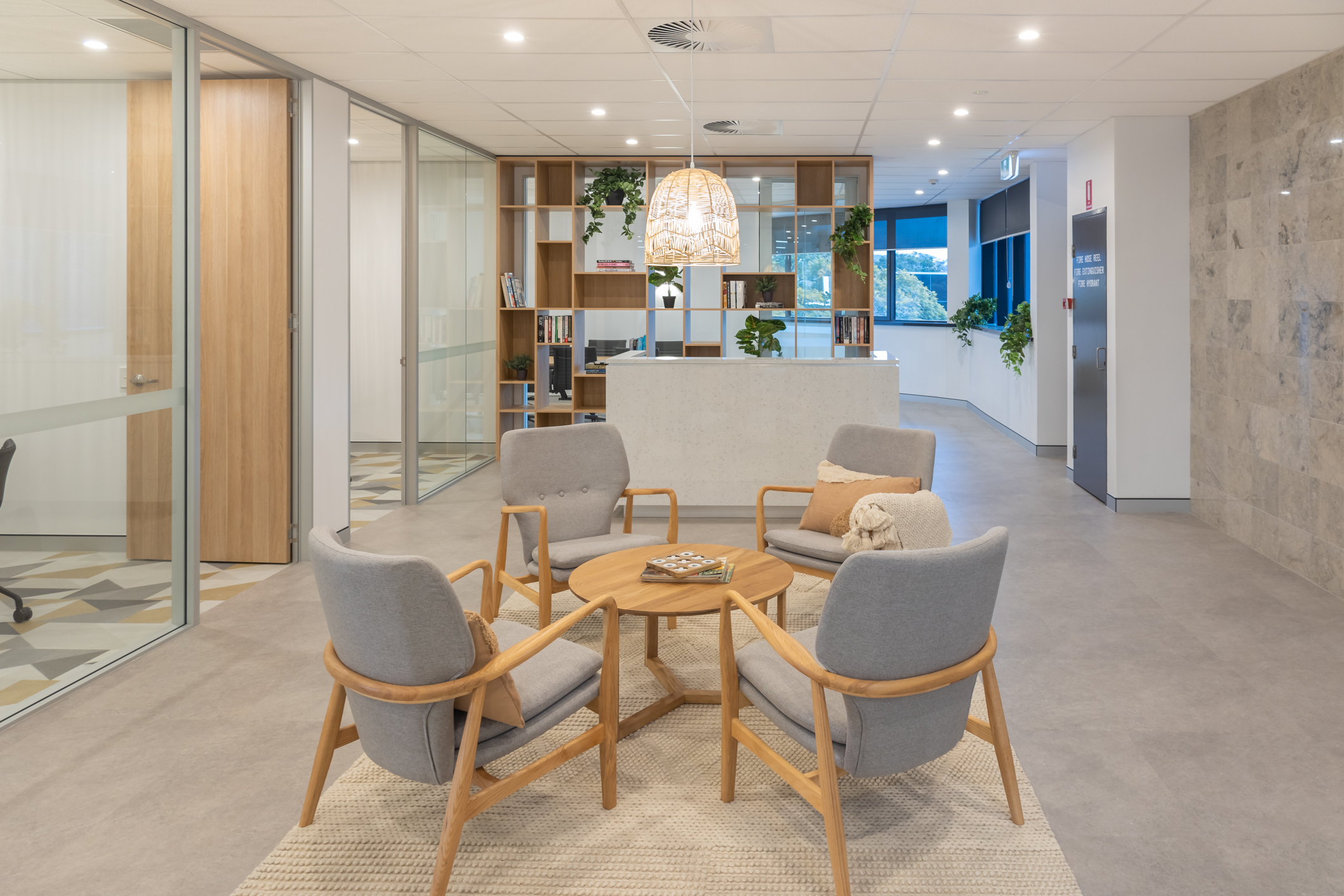 Following on from our successful speculative fitout for two tenancies on Level 1, at 2  Gardner Close Milton, our clients engaged RAW Commercial Projects to complete the next phase of the refurbishment for existing office space.
DESIGN BRIEF
Stage 2 involved creating a complimentary, yet distinctive speculative fitout for an office space of 695m2. Our clients wanted to provide potential tenants with greater choice in selecting an office that was a good fit for their culture and physical needs.
Our talented and skilled Interior Designer, Henna Viikari rose to the challenge.  She was able to develop a design to accommodate a comfortable open plan for a high number of people and workstations in the space.  Within the floorplan, Henna incorporated several breakout areas and quiet rooms.
EFFECTIVE USE OF COLOUR
The space was designed and built to evoke a warm and vibrant working environment with a relaxed casual vibe. Earth tones of yellow, muted oranges and timber were used throughout the fitout to create a mellow look and feel.  This feeling was highlighted through the stunning landscape mural in the open breakout areas next to the reception. The mural is both fun and youthful.  Ideal for up-and-coming businesses looking to appeal to a younger workforce and clientele.
The use of striking geometric vinyl flooring with yellow and grey tones created further impact and provided connectivity between the meeting rooms, boardroom, and kitchen.
As a contrast to the earthy tones, we used black chairs in the meeting rooms, kitchen and breakout areas. This use of contrasting colour was carried through to the lighting solution. Henna incorporated black and rattan feature lighting, along with fun wall lights to define spaces, and to draw people into the meeting and breakout areas.  Through smart and sophisticated design choices, we created the ideal space to meet our client's goal.
CONSTRUCTION
The spectacular design came to life, through the competent management and execution by our Building team.  We expertly managed the demolition and construction of the speculative fitout in line with the design brief and budget.  Our team refurbished the space to include:
Kitchen and staff break out areas
Boardroom and meeting rooms
Executive offices
Supply of electrical works and lighting
Painting throughout the space including feature mural
Installation of flooring
Styling and furniture placement
FEATURES
This 695m2 fitout includes features such as:
Outback landscape wall mural with earthy tones
Timber cabinetry for kitchen
Geometric vinyl flooring
Downlights at the front of house and breakout areas
Feature lighting throughout
Timber wall divider
Reception counter
All loose and fixed furniture including reception chairs, coffee tables, work chairs, stools, workstations, dining tables and chairs
Overall, this speculative fitout exudes warmth and youthfulness. Its bright and casual appeal will attract tenants with a millennial workforce.
Our Project Manager Jason Krisanski has done an exceptional job managing our specialist trades and ensuring all work is done to our high standards and meets all compliance requirements.
TIMEFRAME
8 weeks from start to completion.