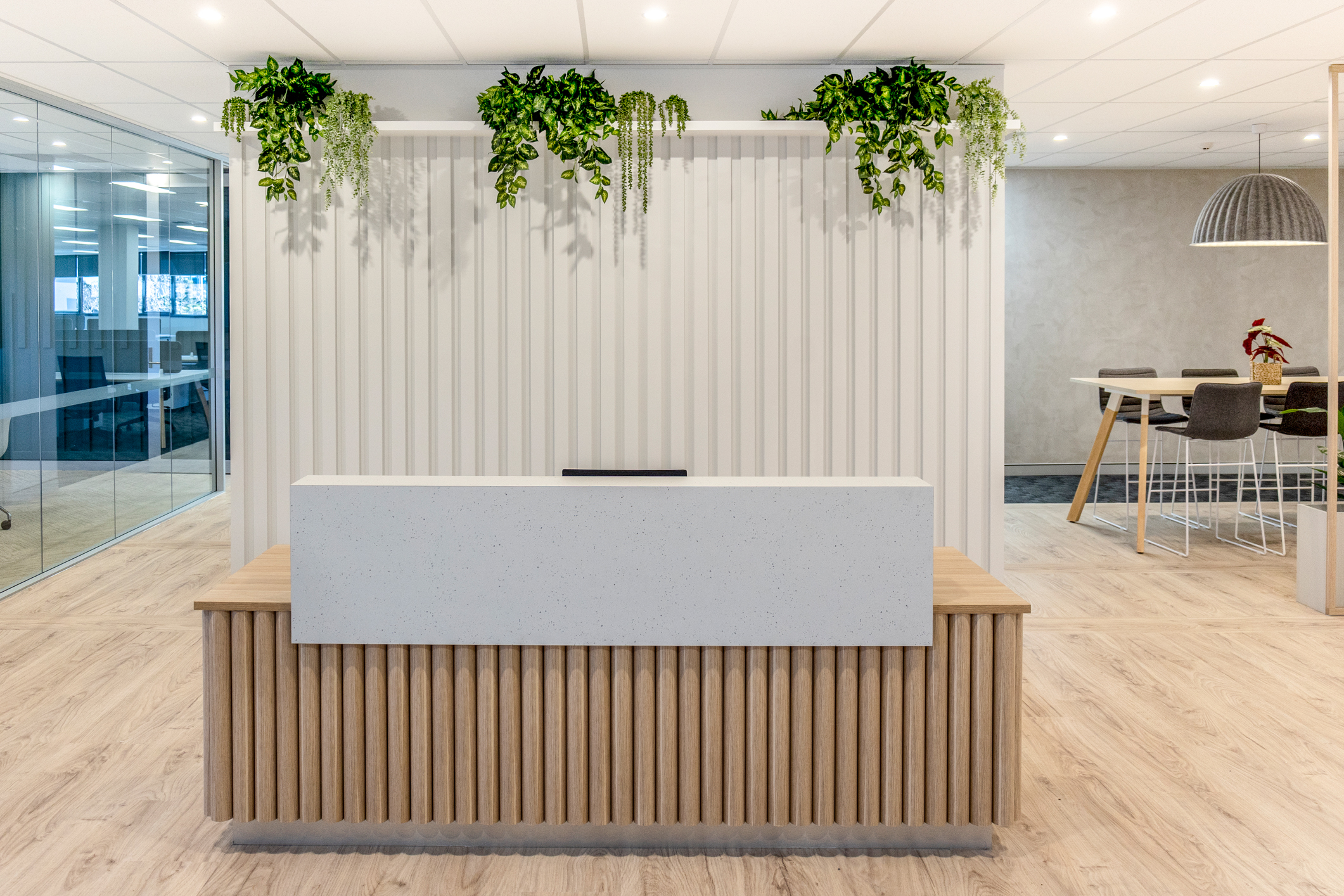 Our final speculative office fitout for 2 Gardner Close, Milton is visually superb, and functional.  Inspired by Nordic style, the space is modern and playful, appealing to a variety of tastes from diverse professional service providers.
The tenancy area spans 847m2.  Our design needed to be flexible to enable easy subdivision of the space to accommodate two tenancies, if required.
DESIGN BRIEF
Our talented and skilled Interior Designer, Henna Viikari created an opulent office environment ideal for leasing to one tenant or two.
Henna developed a design to accommodate a comfortable open plan working area enabling approximately 79 people in the entire space.  This will allow the landlord great opportunity to lease out the space, in line with market demand.
COLOURS AND FITTINGS
Drawing on Nordic themes, Henna worked with our client, choosing a neutral color palette and minimal adornment to create a cosy interior.
The design palette featured monochromatic shades of white, grey and neutral colours with blonde-wood accents.  While the neutral palette and clean lines remain at the core of the design, the rich jewel toned blue and emerald greens inject warmth and personality to the fitout. The striking colours were used as highlights in the paint work and carpet finishes. This will enable future tenants to personalise the space if they wish.
The flooring is a combination of blonde timber tones, herringbone feature carpet and splashes of rich blues and emeralds. The prominent timber panelling in the meeting spaces provide warmth and character to the area.
Functional elements take on an ornamental aspect in this stylish fitout. Lantern-like glass pendants, colourful paper pendants and large acoustic pendants are both striking and practical.
True Nordic style evokes feelings of warmth and homely cosiness. Our Team has created this look and feel with multiple accessible quiet spaces to conduct meetings and collaborate.  These were core to the open plan working environment.  The floor plan is designed to flow easily with identifiable pathways to connect each space.
CONSTRUCTION
This impressive design was built to meet our client's specifications and intent, thanks to the excellent management and workmanship of our Construction team.
The fitted-out space included:
72 Workstations
4 Offices
2 Quazi
Boardroom for 14 pp
2 Meeting rooms
3 Collaborative meeting areas
2 Breakout areas, plus 2 quiet areas
Reception
Utility and kitchen facilities
Data room
Supply of electrical works and lighting
Painting throughout the space
Installation of flooring
Styling and furniture placement
Overall, this speculative fitout exudes warmth and style. Its Nordic tones will attract high quality tenants.
Our Project Manager Jason Krisanski has superbly managed all three stages of this speculative fitout project. It's a huge credit to Jason and the team, and one we are truly proud of.
TIMEFRAME
8 weeks from start to completion.