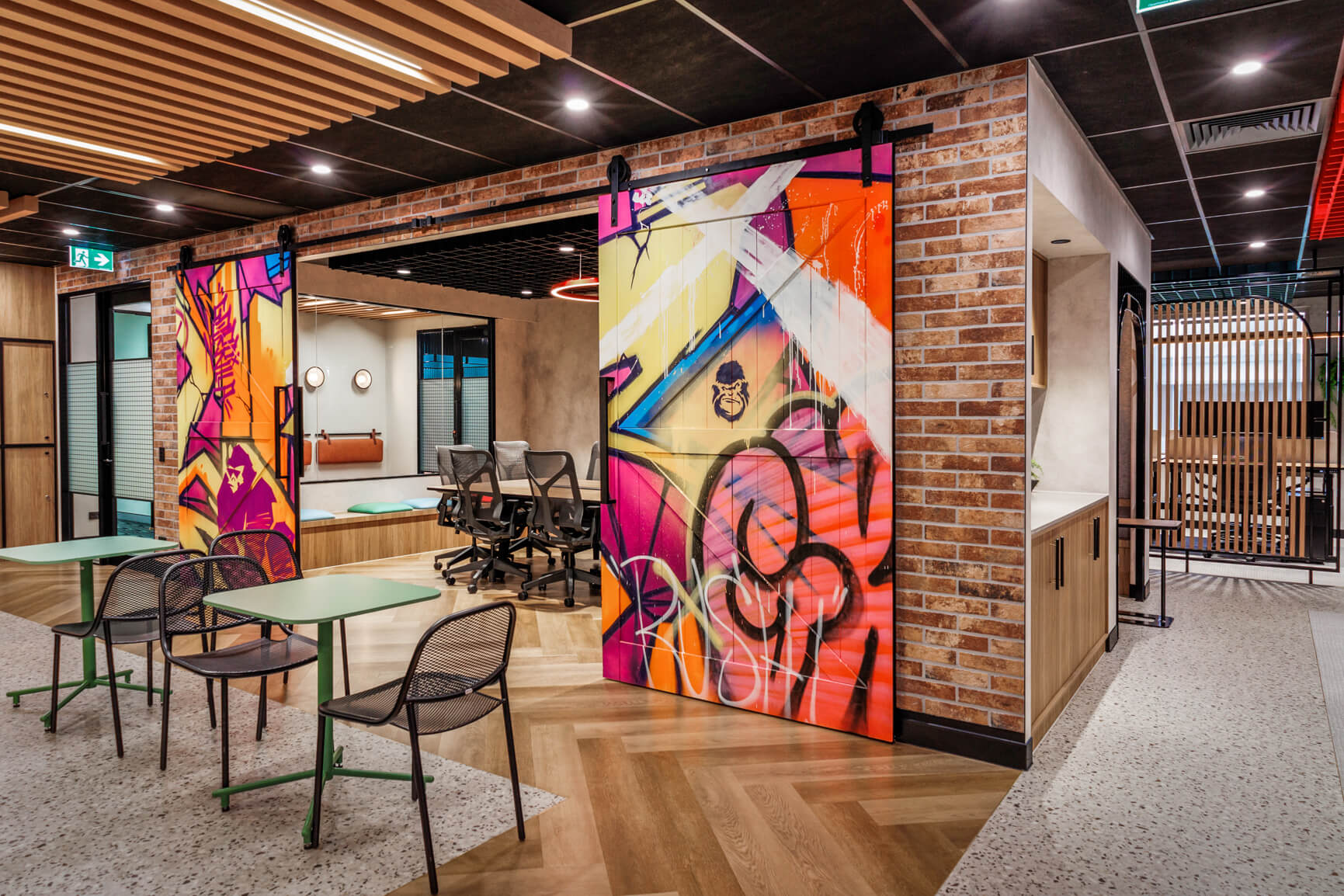 Cutting edge fitout incorporating striking contemporary design, premium fittings and fixtures, delivering a high-tech flexible space.
THE BRIEF

A growing company in Brendale sought a unique but fit-for-purpose commercial space in late 2022 and required a versatile, modern workspace that offered capacity for growth.
The brief was for a contemporary, edgy space to reflect the culture of the business. Requirements included a waiting area, boardroom, collaboration areas, one office, 10 workstations and hot desks, plus a quiet space, meeting booth, and staff kitchen.
DESIGN

RAW Commercial Projects interior designer Alex Machado devised a striking fitout that incorporated urban and industrial elements, complemented by high-end finishes and furniture. Together, the design provides a standout contemporary office space.
Natural materials blend with industrial fixtures to bring fun and creativity to the environment. There is a mix of colours and textures, as well as brick veneer tiles and a venetian plaster wall finish.
The office space is designed to be highly flexible. A room-dividing sliding door emblazoned with street art separates the communal areas from a private meeting area. Square meterage is optimised with bench seating, breakout areas, and in-built cabinetry.
CONSTRUCTION
The detailed design was constructed in 12 weeks in one of the most complex builds completed by RAW Commercial Projects. Overseen by our experienced project manager Chris Crombie, we worked with specialised tradespeople to deliver the fitout on time and on budget.
We overcame the challenge of securing materials and labour amid constrained global supply in the lead up to the Christmas holiday break.
There was a particular focus on critical elements of joinery, which required a high level of attention to detail.
THE OUTCOME

Urban design meets premium quality in this commercial office. Industrial fittings are offset by the warmth of the natural-coloured wood and brick. The personality of the business shines through.