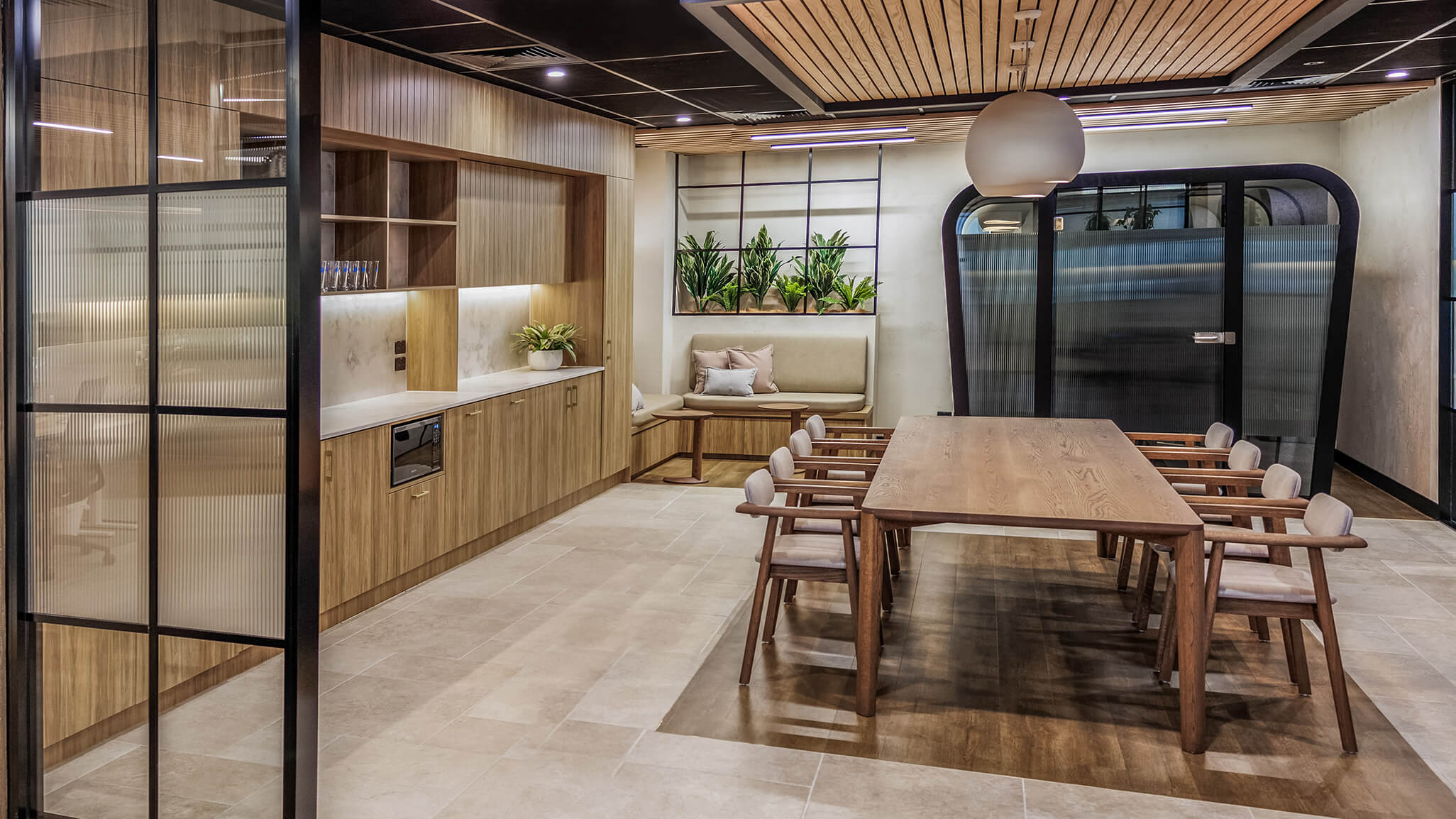 A natural, neutral design and fitout that provides a contrast to the first-stage office space while meeting the needs of a rapidly growing company in Brendale.
THE BRIEF

The client required a 150 sqm addition to their Brendale head office to accommodate their fast-growing workforce. This fitout transformed the adjacent tenancy to their existing space, which was completed by RAW Commercial Projects in February 2023.
The second stage was designed to support 15 workstations and four hot desks. The company also required additional storage, collaboration areas, and two booths for private meetings.
This second stage offers a contrast in design and layout to the original office, incorporating more natural and neutral tones in the colour palette.
DESIGN

This twin space is a complement to the original head office design. Where the first stage features striking colours, design and textures, this second stage uses more clean lines, neutral colours and natural finishes.
The inspiration came from Japanese-style interiors, employing timber and clean lines throughout to highlight the beauty of the materials. The recycled timber posts and beams, as well as the timber furniture, provide focal points.
Overall, the design provides a practical and flexible working space with a calm and quiet ambiance. The office interiors offer contrasting but equally well-considered environments for work.
CONSTRUCTION
The construction of the second stage had to be consistent with the premium level of the initial build, and this was delivered. Our tradies crafted the high-end finishes and elegant details with care, especially the distinct venetian plaster walls and timber elements.
Working with the materials was a fun task, given the blend of styles throughout the twin offices. The team overcame some supply chain constraints during the project to meet the deadline.
RESULTS

When combined, these office interiors offer contrasting but equally well-considered work spaces.
The tenancies are separate but connected through a shared kitchen and amenity area. This central meeting space offers a point of transition, where the colour palette changes to more relaxed tones. The timber theme continues, providing a link between the stages.
These shared multifunction areas enable professional collaboration as a place for the team to come together in a light and calm environment. In the second stage, the space was managed carefully to allow for additional workstations to facilitate more staff for the company into the future.
THE OUTCOME

The office fitout in Brendale is now able to accommodate its workforce in the same location. Its offices are distinct but connected, allowing for different zones for different needs.
Throughout the design and construct process, we were mindful of the requirement for flexibility in the space. This led to the multi-use areas, breakout spaces, and shared areas.
The addition of another 150 sqm now provides the company with a range of options. From neon to neutral tones, creating an excellent office environment for the team to enjoy.