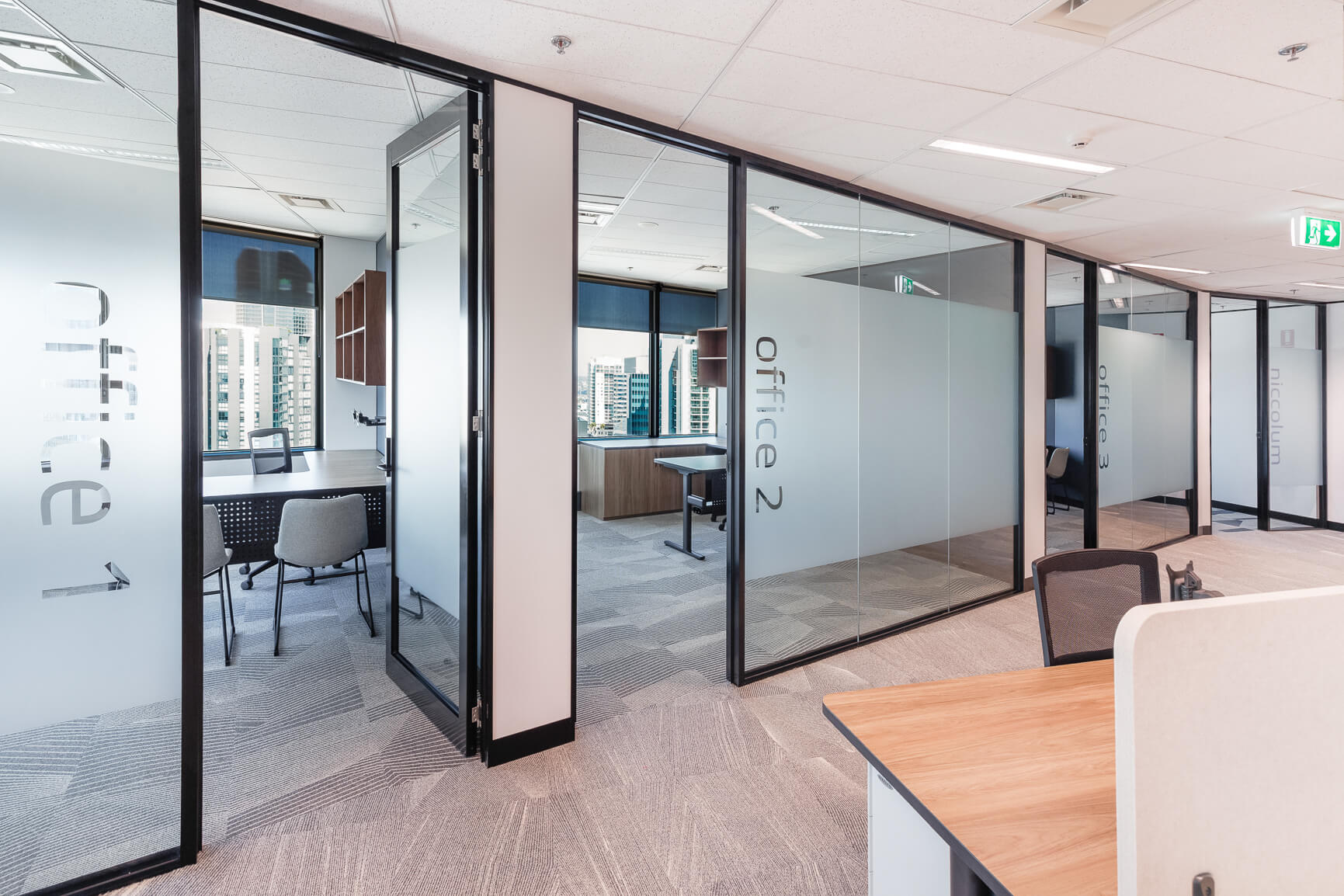 Full design and fitout of a CBD highrise office to highlight spectacular river views and create a professional, contemporary space for a growing consultancy.
THE BRIEF

Global resources industry consultants, Xenith Consulting, required a full office design and fitout in its inner city location. The client needed space for 45 individual workstations alongside offices, a boardroom, collaboration and casual meeting areas and plenty of storage space.
A priority for the client was to ensure there was a level of flexibility in the space delivered to ensure they could adjust the space to their changing needs. The colour palette was to feature dark blues and timber in line with the client's branding.
DESIGN

To meet the client's needs for flexibility of space and furniture configurations, we designed the offices and boardroom with operable walls so they could be easily joined to other meeting rooms. The furniture included castors to ensure the client had the ability to seamlessly adjust the space to their needs.
Secluded open collaboration rooms were designed and fitted with appropriate technology and furniture to ensure they could be used as meeting spaces, phone booths or for hot desking depending on the day. The boardroom and meeting rooms were also designed to hero the incredible views of Brisbane and the bayside from the 31st floor. Custom carpet was commissioned in meeting spaces for a unique touch that reflects the client's brand identity.
CONSTRUCTION
While typically, our team selects contractors to help us deliver projects, for this fitout, the client had its own nominated contractors. Our team invested considerable effort in building relationships with the client's preferred contractors to ensure the project could be delivered successfully and seamlessly.
The team enjoyed opportunities to bond while pausing to watch the sunrise each morning across Moreton Bay and Stradbroke Island. Together, they overcame a number of construction challenges including working with an older air conditioning system and suspended ceilings.
RESULTS

The office fitout successfully balances the client's needs for flexibility and functionality without sacrificing a sophisticated design aesthetic.
The space evokes the company's unique brand identity while ensuring it is fit-for-purpose for its changing organisational needs. The boardroom and directors' lounge deliver a functional and private space when required, but can be easily reconfigured to host larger events when required.
Staff have both individual workspaces as well as the flexibility to use a variety of secluded collaboration areas or small spaces.
THE OUTCOME

The project was delivered on time and on budget during the 11-12 week build. It was a great opportunity to demonstrate our collaborative approach with clients and their preferred contractors with Xenith Consulting now enjoying a sleek new office space that caters for the company's needs.