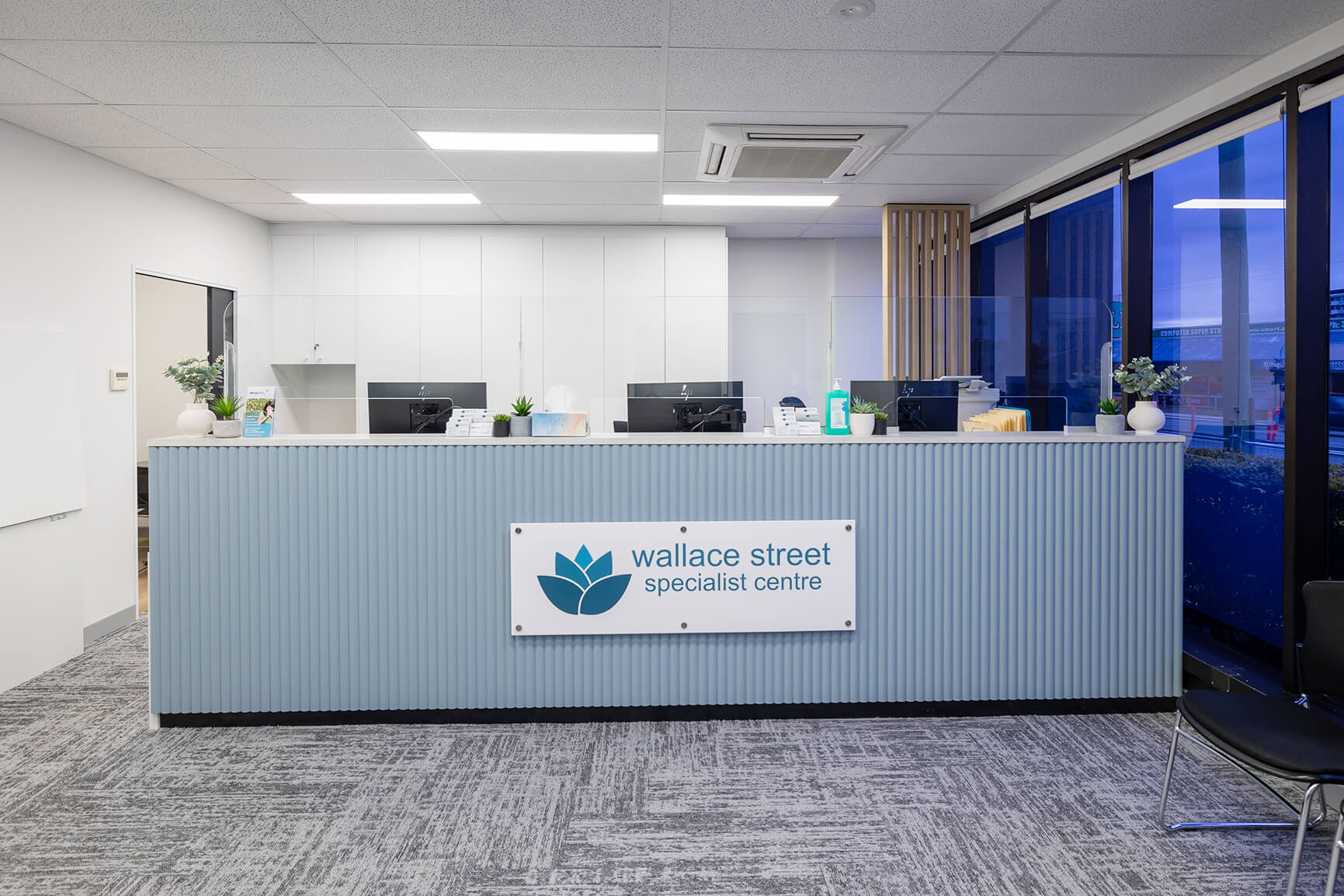 SUBURB/LOCATION:Chermside
Medical office fitout refresh to upgrade reception area to create a calming environment.
TIMEFRAME
2 weeks on site
THE BRIEF

Lung Research QLD wanted to refresh the dated medical fitout at their Chermside medical centre on Brisbane's northside. The focus of the refresh was the reception and waiting area to create a more calming and relaxing environment for visitors and an updated space for nursing staff.
DESIGN

The client's priority was a refreshed reception and waiting area, so our team delivered a design that retained the majority of the centre's floor plan. However, in the reception area, we opted to demolish the existing reception counter and kitchen area to free up space for a new nurses' room and a refreshed reception and waiting area. The kitchen was relocated next to the reception with a new kitchen bench featuring neutral finishes with timber accents to match the overall design.
When it came to aesthetics, the team favoured modern but timeless soft blue tones with timber accents and used new paint finishes and furniture to deliver an updated look and feel. The reception counter was lined with Porta Contours timber lining board for texture, painted in the contemporary Dulux Palmer grey. New flooring was installed in the front-of-house area and kitchen.
CONSTRUCTION
The team managed the new fitout well during a tight two-week turn around and were able to deftly ensure multiple contractors could share the space at the same time to maximise efficiency. The discovery of asbestos flooring changed the team's approach to installing flooring in the space. With the team no longer able to grind the floor ahead of installing vinyl flooring, the design was changed to lay carpet instead.
RESULTS

The team gave special consideration to the reception counter during the design stage to ensure this important workstation was not only aesthetically fresh, but functional for staff to use.
The team spent time to ensure the reception counter was at the correct height and dimensions, that there was adequate storage space and practical space for all equipment. An accessible counter and lift up top was included to the side of the counter along with COVID-safe divider screens. Storage to full height was included to the back of the reception area.
THE OUTCOME

This project demonstrates the impact even a small refresh can have on a practical working space. The team delivered an updated and practical design to the busy and customer-facing areas of the centre, coupled with fresh and timeless aesthetics. The use of timbers and complimentary blue colourings with new flooring and furniture delivers on the client's requirements for a calming and welcoming environment. An updated reception counter, new nurses' area, and kitchen ensure staff have functional, efficient and fresh spaces both to work in and take breaks.
Practice Manager Naomi Chambers said the team was "an absolute pleasure to work with on our new fitout".
"From the very first meeting, RAW were fully committed to our business, and this commitment flowed from the Director of RAW right through to our Site Manager and the subcontractors on site," she said. "This meant that we received exactly what we wanted, within budget, on time, and any issues along the way were resolved quickly and professionally, with excellent communication at all times. I cannot recommend RAW highly enough to anyone requiring a new fitout or renovation of existing premises."