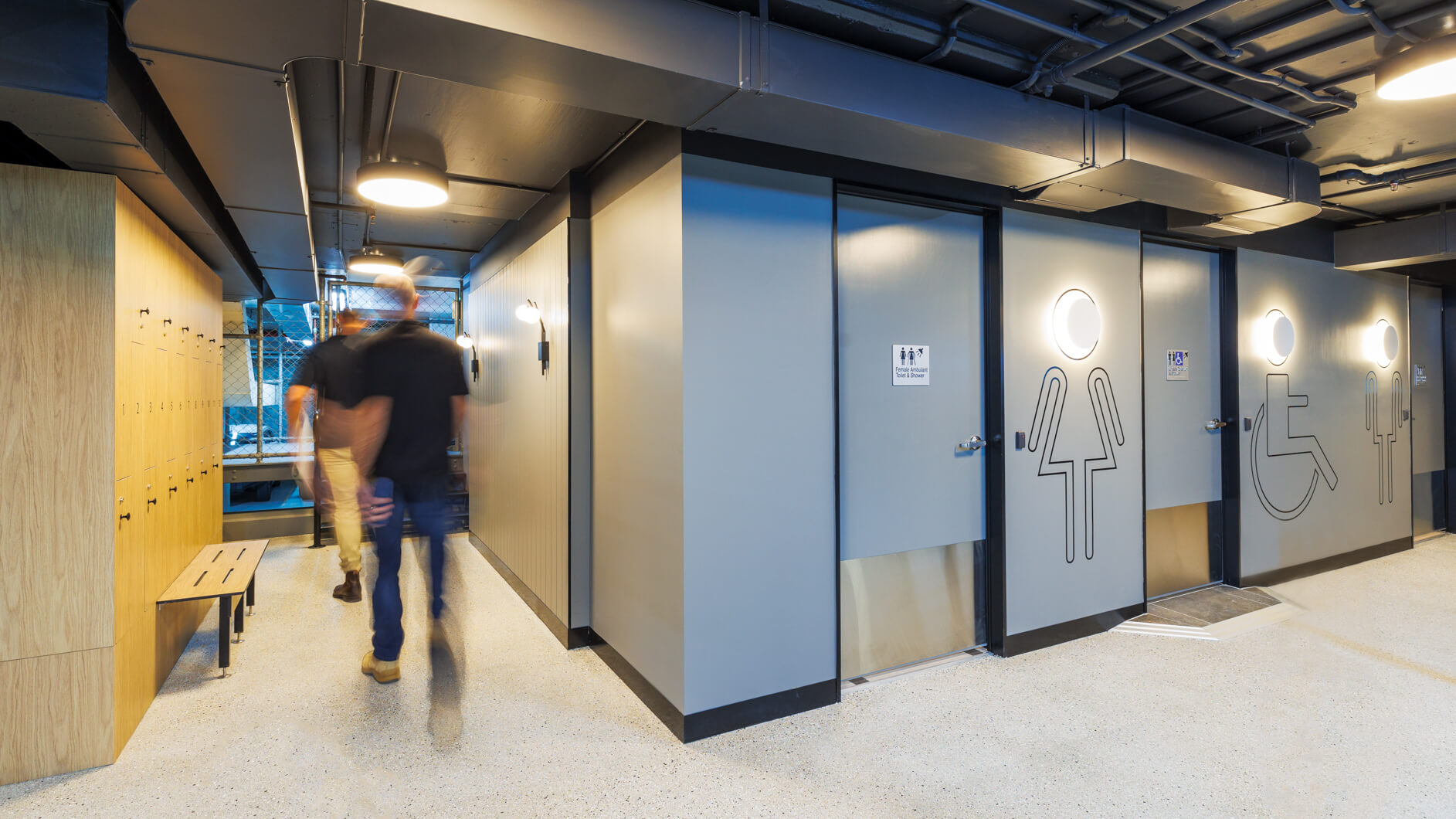 SUBURB/LOCATION:Milton, Brisbane
Secure and practical end-of-trip facilities that improve staff amenity at landmark Milton building.
THE BRIEF

Property owners Bachrach Naumburger Group wanted to upgrade their office building at 301 Coronation Drive with end-of-trip facilities.
The 13-storey local landmark within the Milton Business District sought new for active transport options, following our previous work to renew four foyers and the new car park entrance.
The brief was for a practical and secure space that increased the amenity for staff. Bachrach Naumburger Group required design consistency with the rest of the building, new signage and lighting and bathrooms.
DESIGN
RAW Commercial Projects interior designer Henna Viikari developed a contemporary design for the amenities. Practicality was also top of mind, to ensure the area was low maintenance and suitable for a range of commuters.
Henna designed a welcoming and practical environment for the end-of-trip facilities with bench seating and greenery. The internal floor tiles were chosen for their endurance and their aesthetic appeal, while wall tiles added texture. Fire rating requirements and aesthetic consistency determined the choice of light fittings.
CONSTRUCTION
Construction of the project was conducted in stages over 12 weeks. RAW Commercial Projects had previously worked with the asset owner on other office fitouts, giving us an insight into the compliance and logistical requirements of the end-of-trip facility build.
The project was led by Project Manager Jason Krisanski and Site Manager Tom Buckley. We worked hard to minimise disruptions to existing tenants during construction.
THE OUTCOME

The end-of-trip facilities modernised the building and delivered important worker amenities. With pops from the standout lighting, it creates a fun and useable space that staff enjoy arriving at when they start their workday.