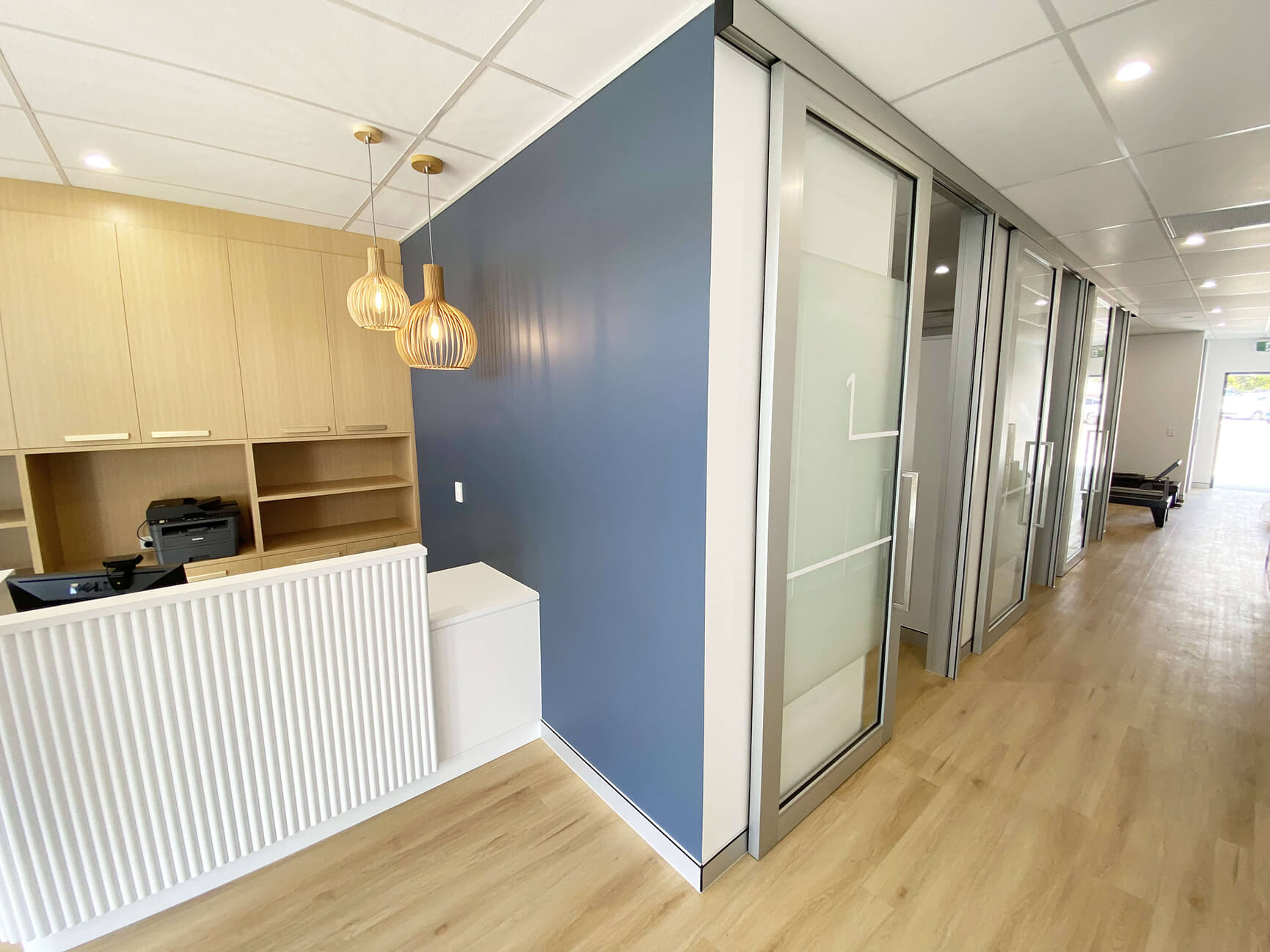 Allied health design and fitout to optimise space and lift the look for this growing physiotherapy practice.
THE BRIEF

TPS Health operates a group of physiotherapist clinics across Brisbane and Redlands. To meet their growth requirements and freshen up their tenancy, they sought a new office design to construct a clinic with three treatment rooms that would provide a comfortable environment for staff and clients. In addition, TPS Health wanted a contemporary reception and waiting area, as well as a room for reformer pilates, a preparation area, laundry and storage zone. The look and feel was to be clean and fresh, using neutral and natural tones with pops of colour.
DESIGN

Interior designer Henna Viikari designed the property to make the best use of all the available space and allow for three treatment rooms. The plan also allowed for a compact but functional reformer room, reception zone and preparation rooms. The flow is seamless and intuitive, making the best use of the space.
The palette was designed to be aligned with the TPS Health brand. This prompted the use of whites, Tasmanian oak timbers and blues.
CONSTRUCTION
The construction phase began with a cold shell space. Given its location in a busy shopping centre, we were mindful to carefully plan and manage the impact of the building on neighbouring tenants.
Site manager Tom Buckley oversaw the fitout, which proceeded efficiently and was completed within the agreed time frame of six weeks.
Electrical wiring, air-conditioning and digital infrastructure was incorporated and hidden into the fitout.
RESULTS

TPS Health's new clinic can help more of its clients with additional treatment and exercise spaces. The spaces are attractive and practical, with ample space for client services. Supporting services are also catered for in the design, thanks to efficient storage space and areas for preparation.
Clients are welcomed to the clinic in a comfortable, light and bright waiting zone, with feature details for interest.
THE OUTCOME

This allied health fitout met the client's requirement for treatment space and a modern design. The fitout not only embodies the brand of TPS Health but also caters to its needs as a growing practice. The treatment rooms are light, clean and fit-for-purpose, while the public-facing areas offer an inviting and open space.