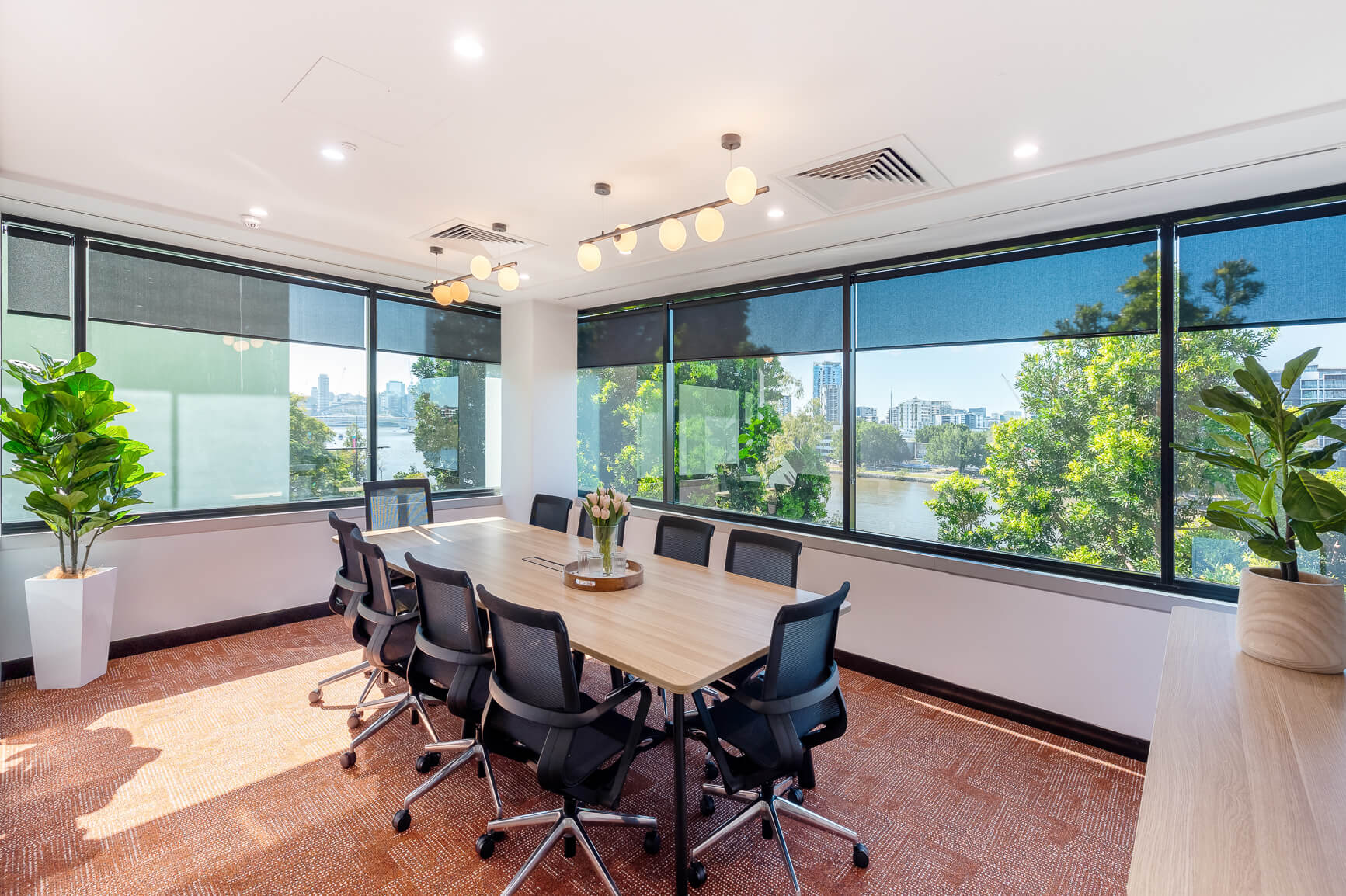 SUBURB/LOCATION:Milton, Brisbane
Two distinct speculative fitouts to create practical and professional offices in a premium setting on the Brisbane River. The design and construct refurbished the entire fourth level of the Coronation Drive building.
SIZE
Tenancy A – 316 sqm
Tenancy B – 296 sqm
THE BRIEF

Bachrach Naumburger Group own and manage a portfolio of commercial and retail properties in Brisbane. They wanted to modernise the current 301 Coronation Drive offering on the fourth level with fresh colour palettes and unique finishes.
Both spaces were to incorporate a welcoming and waiting area, a boardroom, a meeting room, a Zoom room, offices, and up to 28 open-plan workstations. The main entrance, meeting rooms, boardroom and waiting areas all face premium Brisbane River views to be highlighted. It was important to carefully introduce colour to ensure future tenants could incorporate their branding.
Each tenancy required its own colour palette and different finishes to ensure it remained unique.
TENANCY A

The first suite had an existing tenant, so we ensured the colours selected matched their corporate branding. To bring some new life to the space, we installed herringbone timber vinyl flooring and orange carpet feature tiles to create a bright and sophisticated look.
Feature orange walls were added to brighten the space, along with textured painted walls. We used black powder-coated glass partitions, black heritage bars and a fluted film design.
Acoustic wall panelling was installed in the meeting room, Zoom room and boardroom with a 45-degree pattern to complement the herringbone pattern of the timber vinyl flooring. In the kitchen and utilities areas, we featured beautiful fish scale splashback tiles and round timber knob handles to pick up on the round design element of the orange feature carpet tiles.
TENANCY B

For the second tenancy, grey and charcoal tones were used to modernise and refresh the space.
Two tone herringbone timber vinyl flooring was selected for the welcome area and staff kitchen. A circular feature carpet design in charcoal was used in the front of house areas, meeting room and boardroom while grey textured painted walls and black feature pendant lights added to the sophisticated look. A splash of olive green walls also created some effective contrast.
The wow statement was reserved for the open plan area with the installation of a large, printed wall image. Olive green acoustic wall panelling was installed in the phone booth area and Zoom room to add some character and help with acoustics. Custom made joinery was created in black, timber and cement laminates to bring a smart, professional look.
CONSTRUCTION
Construction commenced with a typical "cold shell" space with bare concrete walls, no ceilings, lighting or internal walls. The construction schedule was carefully planned and managed, as noisy works, such as hammer drilling into concrete, had to be coordinated outside of business hours to ensure tenants above and below were not inconvenienced.
Adding complexity, the feature floor tiling in the lobby and bathrooms were custom-sized for this fitout, which required additional coordination with the supplier. We ensured trades were appropriately scheduled to keep the project on time.
Given the first tenancy had an incoming tenant, we were required to complete a full installation of power and data throughout the space.
THE RESULTS

The new fitouts create two modern, sophisticated and unique office spaces. With fresh, but not dominating colour palettes, the design will allow future tenants to be flexible and incorporate their own branding if desired. The pleasing aesthetic enhances the incredible views of the Brisbane River from some of Milton's most sought-after commercial spaces.
THE OUTCOME

We delivered the fitouts for Bachrach Naumburger Group on time and on budget despite the challenges of operating adjacent to a live office environment and the long lead time to source unique tiling products. One tenant is already enjoying the benefits of the fresh and sophisticated fitout while the second suite is now a highly attractive offering in the Brisbane market.