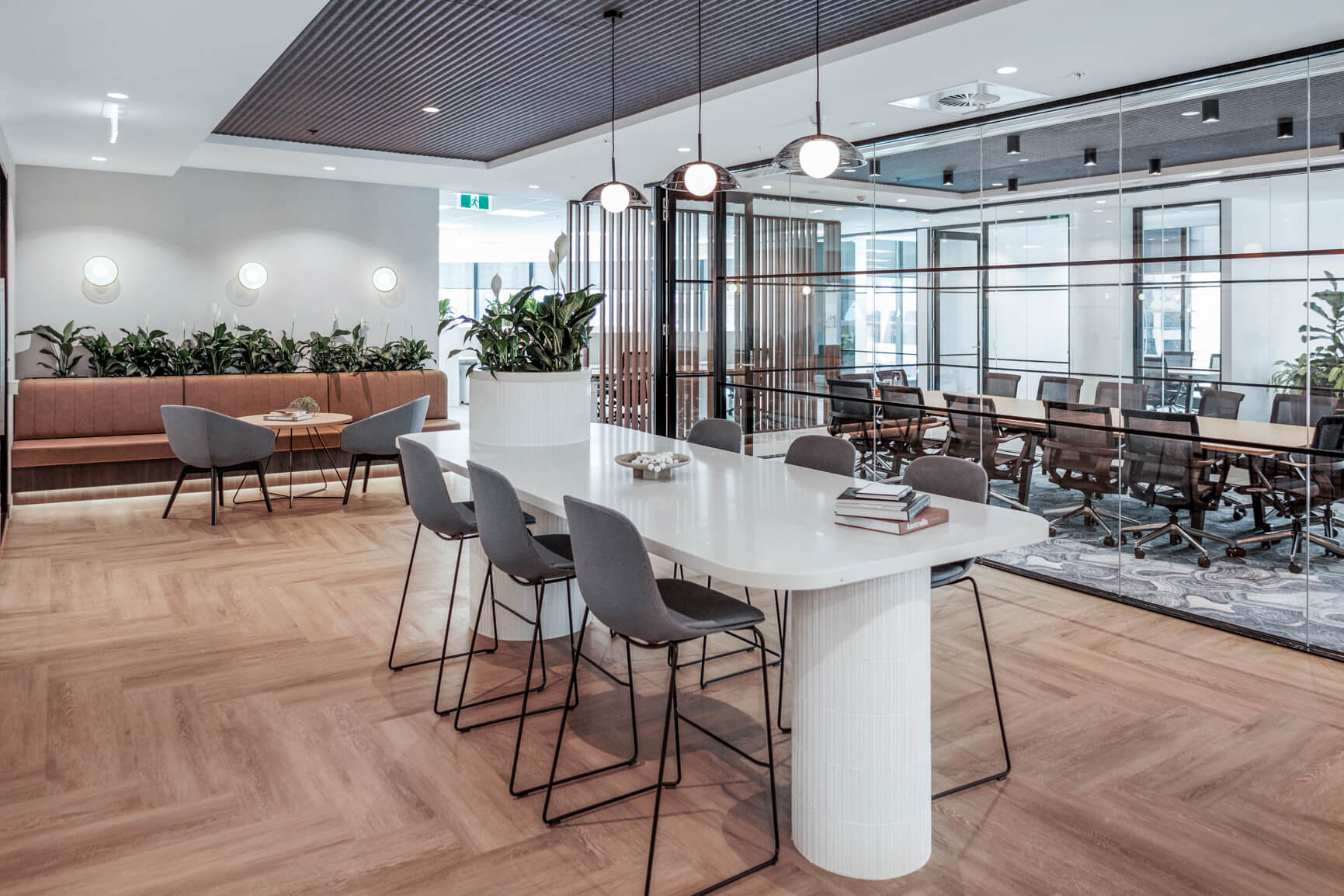 SUBURB/LOCATION:Brisbane CBD
Premium design and construction for a speculative fitout within an A-grade CBD office, creating flexible work and meeting spaces with high-quality fittings and fixtures.
THE BRIEF

Asset owners AsheMorgan sought a premium and modern look for a speculative fitout for their A-grade 20-storey highrise in Brisbane's central business district.
The full-floor fitout involved transforming the space to accommodate 44 open-plan workstations, an office, a boardroom and directors' lounge and breakout spaces, as well as a reception and waiting area.
The brief was for a contemporary space that provides tenants with a "clean slate" to move in efficiently and quickly. It was built for post-Covid working conditions, including a Zoom room and noise minimisation to support modern work practices.
DESIGN

RAW Commercial Projects designer Linda Swanepoel sought to maximise the spectacular city views from the elevated site of 310 Ann Street. Ensuring the best use of natural light was also a priority.
In order to achieve this, Linda designed the floorplan with workstations around the perimeter of the space. This meant the access to natural light was improved in the staff working areas. The boardroom was located in the centre of the space, and fitted with floor-to-ceiling glass and ample lighting.
The fitout tones were kept deliberately neutral. Natural timber flooring was complemented by modern black, grey, and white light fittings and built-in furnishings. Top of mind were practicality and maintenance, with hard-wearing materials incorporated throughout.
CONSTRUCTION
This premium fitout was constructed in eight weeks, including the interiors and the installation of new essential services throughout the floor. Experienced site manager Dayne Heap led the build, which involved the complicated logistics of managing works in the busy central business district area.
A specific focus for the team involved fitting acoustic panelling to ensure privacy and information security in the office ceilings, boardroom walls, reception area and breakout video conferencing spaces.
Premium carpentry and joinery was also applied throughout the construction.
THE OUTCOME

High-quality workmanship and a contemporary design combined to produce a welcoming office environment. The space now reflects its CBD location, with all the features of a professional office. Having all the fittings and fixtures in place, it is move-in ready for tenants.