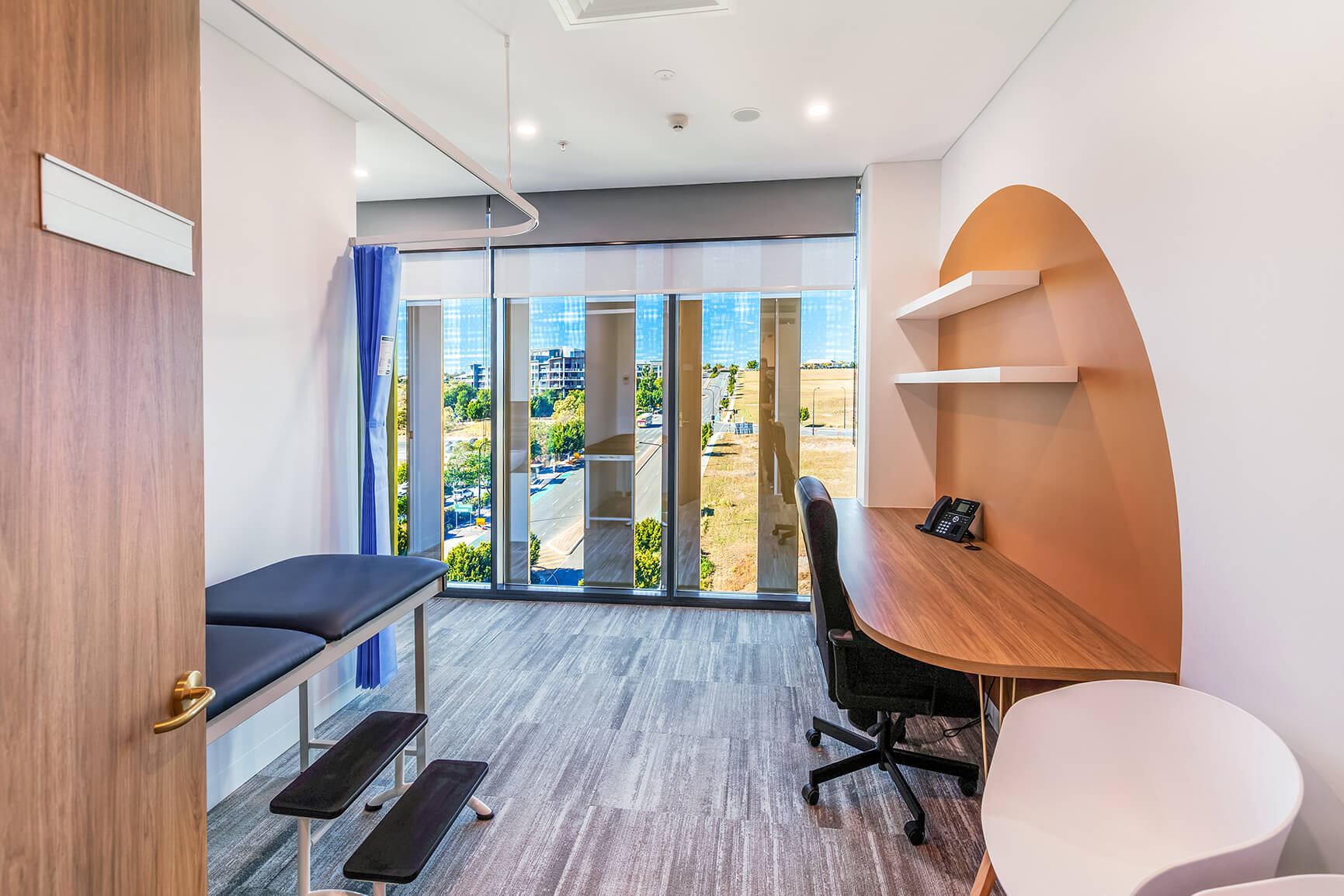 Allied health office and clinic extension to provide additional rooms for medical professionals, maximising the services available to veterans.
Australian Veteran Health Services (AVHS) wanted to extend the usable space within their recently developed property to enable more medical and health service provision in the Ipswich region.
The organisation provides bulk-billed medical support to military personnel as they discharge from Defence.
The 70 sqm extension required reconfiguring the existing administration and medical spaces. New elements were two additional doctor's rooms, five nurse's stations and a training area. There was also a new fitout for the waiting area and a storage zone.
This required careful design to meet accessibility requirements within each room and in transit areas, as well as matching the colour and materials.
The space is now optimised for additional services, allowing veterans to access more subsidised healthcare services when they need them.
DESIGN

The design was aimed at maximising the available space for medical and health services, as well as training facilities. The focus was on providing sufficient private and quiet rooms within the available space. New ceilings that matched the existing ones, practical surfaces and durable materials were used to create a cohesive look and feel throughout the building. The design provides a contemporary, fresh and friendly interior.
CONSTRUCTION
The addition of 70 sqm to the existing 105 sqm original fitout was completed in an eight-week program.
RAW Commercial Projects' Project Manager, Jason Krisanski, says the team overcame challenges to complement some of the materials and construction methods from the existing spaces. He said another point of difference for the fitout was a solid plaster ceiling instead of a standard grid and tile ceiling.
"This meant there was special consideration in regards to installing all services within the ceiling cavity earlier than usual and installing access panels in strategic locations for future maintenance," he said.
THE OUTCOME

Boosting the number of medical rooms, and opening up space for training, will enable greater services for AVHS.
The project added space and coordinated seamlessly with the existing fitout. The low-maintenance fittings and fixtures allow for efficient service provision for the medical, allied health and administration staff.
AVHS's space now supports its growing operations, so more veterans can access effective healthcare.